Coldest October for Bengaluru in over 10 years
Bengaluru experiences its coldest October in a decade, with temperatures dropping to 17.1 degrees Celsius, two degrees lower than usual. The early arrival of chilly weather is attributed to a lack of rainfall, and the state faces drought conditions with numerous taluks declared as drought-prone. The Meteorological Department predicts a potential onset of winter in November, but a harsh winter like the previous year is unlikely.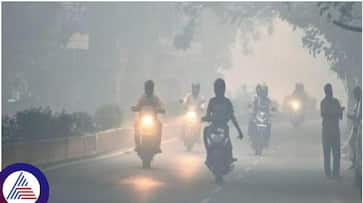 Bengaluru, often dubbed Karnataka's "garden city," experienced its coldest weather on October 24 in the past ten years. This chilly weather pattern, reminiscent of conditions observed in 2013, has begun much earlier than usual, marking the coldest October in a decade.
The state of Karnataka has grappled with a severe lack of rainfall this year, leading the state government to declare 216 taluks as drought-prone. Many of the state's reservoirs also remain unfilled. Consequently, it appears that winter has made an early appearance, even as the monsoon season continues. As the evening approaches, Bengaluru has been experiencing a noticeable drop in temperature.

Bengaluru supermarket vegetables contain unsafe levels of iron, cadmium and nickel; sparks health concerns
On October 24 (Tuesday), Bengaluru's Kempegowda bus stand recorded a minimum temperature of 17.1 degrees Celsius at 8:30 a.m., marking the lowest temperature for the month of October in the past decade. This temperature is 2 degrees Celsius lower than the typical October readings. Similarly, the Kempegowda International Airport recorded a temperature of 17.2 degrees Celsius, while the HAL Airport noted a temperature of 17 degrees Celsius.
Remarkably, just three to four days earlier, on October 18, the morning temperature had been registered at 18.6 degrees Celsius. It was expected that the weather would gradually warm up to at least 20 degrees Celsius, but the city experienced an unexpected dip to 17.1 degrees Celsius. The exact cause of this sudden decline remains uncertain.

Sampige railway corridor project delay leaves Bengaluru commuters frustrated
Across the state, dry weather is expected to persist, with maximum temperatures reaching 32 degrees Celsius. The highest temperature tends to occur around 3 p.m., while the lowest temperatures are generally recorded between 6 a.m. and 8 a.m.
The Bengaluru Meteorological Department anticipates the arrival of winter weather in Bengaluru from the last week of November. However, the influence of El Niño suggests that the likelihood of an exceptionally harsh winter, similar to last year, is relatively low. Additionally, Meteorological Department official Prasad has indicated a possibility of heavy rainfall in November.
Last Updated Oct 26, 2023, 12:18 PM IST