Cobra visit in Bengaluru home goes viral, netizens share laughter: 'Chalo kuch toh naya hua B'lore mein'
Bengaluru's quirky encounters continue as a King Cobra surprises a resident, following the recent leopard sighting. Shared on Platform X, the amusing incident ends with the snake safely rescued. Online reactions express a mix of shock and humour, with users joking about Bengaluru's unpredictable events. The city, known for tech troubles, now adds unexpected animal guests to its unique challenges.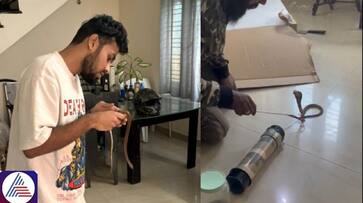 Bengaluru, often dubbed as the IT hub, is notorious for its traffic woes and occasional tech crises. The city's residents frequently find themselves grappling with unique problems, whether related to technology or the chaotic roads. In the startup haven, it's not uncommon for animals to venture into the city, creating headlines amidst the tech buzz.
Recently, the spotlight was on a leopard that made a surprise appearance in Bengaluru, capturing the attention of the Silicon City. Adding a humorous twist to this animal invasion, a man in the city had a rather slithery encounter as a Cobra found its way into his house, claiming it to be a King Cobra. The resident shared the amusing incident on Platform X (formerly Twitter), saying, "A LITERALL KING KOBRA GOT IN OUR HOUSE TODAY IN BLR! 😭😭he is safely rescued now tho."

Bengaluru traffic jam holds Ferraris hostage: Thousands of HP powerless (WATCH)
The internet, ever-ready for a good laugh, responded hilariously to the news. Users expressed a mix of shock and surprise as they witnessed the tiny snake being skillfully rescued by a snakecatcher. Animal intrusions into Bengaluru homes, especially during the rainy season, are not unheard of, with snakes, frogs, and other marine creatures making unexpected appearances.
Reacting to the news, one user quipped, "First a leopard, now a snake...what's next?" in a tone that echoed the sentiments of many. Another user added a touch of humor, sarcastically noting that it's something new happening in Bengaluru. "Chalo bhai kuch Naya hua Banglore me," the user wrote, resonating with the sentiment of the online community.

How a ragpicker in Bengaluru got lucky by finding USD 3 million in trashbin
Infusing a bit of tech humor into the situation, one user commented, "When Developers do real Python," earning a virtual round of applause for the technical wordplay. Another user cleverly connected the Cobra's origin to the city's popular station 'Nagasandra.'
In a city accustomed to grappling with traffic issues, delivery delays, auto-rickshaw challenges, and various tech-related woes, this time, the spotlight shifted to unexpected houseguests in the form of animals. Fortunately, the snake encounter had a harmless outcome, leaving the residents with a memorable and amusing story to share.
Last Updated Nov 9, 2023, 3:53 PM IST