Karnataka: Cobra bites young man 12 days after teasing, reinforcing serpent's revenge myth; check details
In Devaraguddenahalli village, Hassan, a man named Abhilash tragically died from a snakebite, possibly linked to a video of him teasing a cobra six weeks earlier. Villagers speculate that the snake held a grudge, supporting a belief that snakes remember provocations for 12 years. Additionally, a rare Bamboo Pit Viper was found in Kalasa, and a brave pet dog thwarted a cobra's attempt to enter a home in Siruguppa.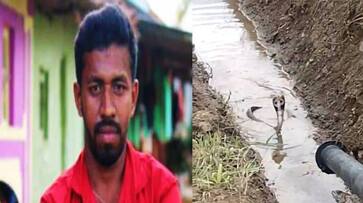 In a tragic incident that occurred in Devaraguddenahalli village in Hassan, a 28-year-old man named Abhilash lost his life due to a snakebite. The bite occurred on October 29, and it's been said that this incident confirms an old belief that snakes hold grudges for 12 years. What makes this story even more unsettling is the shocking video discovered on Abhilash's mobile phone after his death, which has since gone viral.
Around six weeks before his unfortunate demise, Abhilash recorded a video with his phone. In this video, he was seen teasing a cobra that was investigating a four-inch water pipe in a local farm. The snake appeared agitated, raised its head, and hissed. Now, villagers are speculating that this snake might have taken revenge for Abhilash's provocation. This tragic event seems to support the age-old belief that snakes remember and respond to such provocations over a long period of 12 years.

Rare and beautiful serpent 'Bamboo Pit Viper' discovered in Karnataka's Chikkamagaluru

Rare Bamboo Pit Viper Snake Discovered in Kalasa:
A rare snake known as the Bamboo Pit Viper was spotted in Kalasa. This endangered species is exclusive to the Western Ghats region. The snake was discovered in the vicinity of Chandru Bhatt's residence, situated near the Kalaseshwar temple in Kalasa taluk. The Bamboo Pit Viper, aptly named for its preference for bamboo shoots, is generally non-lethal to humans. However, wildlife experts express concern that over time, knowledge about this unique snake may diminish. The snake was captured by reptile expert Rizwan and subsequently released into its natural habitat.
Brave Pet Dog Thwarts Cobra's Attempt:
A vigilant pet dog bravely thwarted a cobra's attempt to enter a home. Manjunatha, a resident of VS Colony in Siruguppa, witnessed the cobra's intrusion and observed his pet dog courageously preventing the snake from entering the house. The dog's persistent efforts drew the attention of Manjunatha and his family, who rushed to the scene. They subsequently sought the assistance of an entomologist, who successfully captured the cobra.
Last Updated Nov 3, 2023, 1:00 PM IST