Bengaluru: Yellow line metro to get driverless metro train?
Namma Metro in Bengaluru is preparing for the launch of a driverless metro train on the Yellow Line, connecting South Bengaluru to Electronic City. Two 12-coach trains are expected to arrive from China in October. The Yellow Line is set to begin operations in Q1 2024, improving connectivity for daily commuters to the Electronic City IT hub.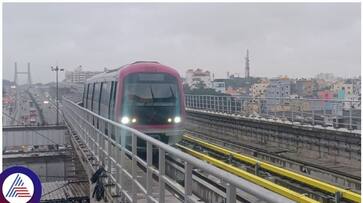 Namma metro in Bengaluru is gearing up for a driverless metro train, running along the Yellow line metro (R V Road - Bommasandra) in the Silicon City.  Bengaluru's metro network is expanding with preparations underway for train operations on the Yellow Line, distinct from the existing Purple and Green Lines. 

The model of this advanced driverless train has been unveiled, and it is expected that two trains, each comprising 12 coaches, will be arriving in the city from China in October. The Yellow Line plays a pivotal role in connecting South Bengaluru to Electronic City, a hub housing major IT companies such as Infosys and Biocon. Consequently, the Bengaluru Metro Rail Corporation Limited (BMRCL) has decided to implement driverless metro operations along this significant route.

Bengaluru: Byappanahalli metro station gets additional escalator to ease passenger footfall
China Railway Rolling Stock Corporation has secured the contract for the supply of driverless metro bogies, and as part of this agreement, the remaining train carriages will be manufactured by India's Titagarh Rail India Company.

Bengaluru's entire Purple line metro likely to be fully operational by September 15: BMRCL
According to reliable sources, the Yellow Line of the Bengaluru Metro is expected to commence operations in the first quarter of 2024. However, BMRCL's Managing Director, Anjum Parwez, has expressed the organization's intent to complete all necessary work on the Yellow Line by December 2023. This would enable them to initiate operations on the stretch with a total of seven trains.
The expansion of the Bengaluru metro network and the introduction of driverless metro services will help the daily commuters to travel with ease to the Electronic City.
Last Updated Sep 21, 2023, 5:07 PM IST