Bengaluru's lifesaving gesture: Doctors remove living heart for transplant in Tamil Nadu
Bengaluru engineer Vishnu Tirtha Vadai's family donated multiple organs after his passing, including his heart, which was transported to Chennai, saving a patient's life. Their selflessness showcases the transformative power of organ donation in the face of tragedy.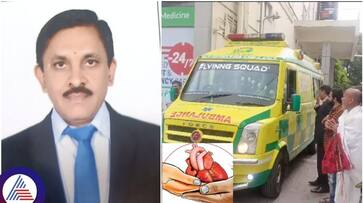 A group of Bengaluru doctors have shown extraordinary acts of compassion in a heartwarming operation. The family of an engineer, who had been working at the Karnataka High Court, made an extraordinary decision to donate multiple organs, a choice that has the power to transform the lives of those in need.
The engineer, Vishnu Tirtha Vadai, aged 54, held the distinction of being the first Haitian engineer to serve at the Karnataka High Court, a position he had held since 2001. However, his life took an unexpected turn when he was admitted to the hospital on September 7 due to a severe brain-related illness. Despite the best efforts of medical professionals, he tragically passed away due to brain dysfunction.

Ganesh Chaturthi 2023: SWR Railway announces special trains for Karnataka
But within this sorrowful chapter of Vishnu Tirtha Vadai's life, his family demonstrated an extraordinary act of kindness and compassion. In the face of their own grief, they chose to donate multiple vital organs from their beloved family member. This selfless decision included offering Vishnu's heart, kidney, liver, and eyes to those desperately awaiting life-saving transplants.
What sets this story apart is not just the act of organ donation itself, which is always a profound and selfless gesture, but the extraordinary journey that Vishnu Tirtha Vadai's heart embarked on. After his living heart was carefully and skillfully removed by dedicated doctors in Bangalore, it embarked on a journey that would ultimately save another life, miles away in Tamil Nadu.
An ambulance transported this precious cargo, Vishnu's still-beating heart, from Trust Well, a private hospital in Bengaluru, all the way to a hospital in Chennai, Tamil Nadu. This incredible feat of coordination and medical expertise underscores the incredible advancements in the field of healthcare and organ transplantation.

Brand Bengaluru: Karnataka govt seeks to collect fees on traffic-congested roads in IT hub
The recipient of Vishnu Tirtha Vadai's heart, a patient named Durdaivi, aged 54, had been facing a critical medical situation. The transplant not only offered her a second chance at life but also served as a testament to the power of organ donation in bringing hope and renewal to those in need.
Vishnu Tirtha Vadai's legacy will live on through the lives he touched with his selfless act of organ donation. His family's decision to give the gift of life, even in their time of mourning, serves as a poignant reminder of the profound impact that one act of generosity can have on the world. Organ donation truly has the power to turn tragedy into hope and loss into renewed life.
Last Updated Sep 12, 2023, 3:46 PM IST