Bengaluru 'paper helmet' man sparks hilarious banter from Netizens
Bengaluru witnessed amusement as a person used a paper bag instead of a helmet while on a motorcycle, sparking viral social media hilarity. The unconventional 'helmet' choice invoked witty comments, speculations, and humorous theories from netizens, turning the scene into online banter and invoking a 'typical Bengaluru behavior' sentiment.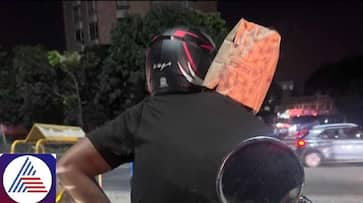 Bengaluru witnessed an amusing scene on its roads that left pedestrians and passersby utterly surprised. A peculiar sight unfolded when a person seated on the back of a motorcycle opted for a paper bag in lieu of a helmet, catching the attention of many. This comical moment swiftly went viral across social media platforms, triggering a cascade of humorous reactions from netizens.
The widely shared image depicts an individual seated at the rear of a parked motorcycle, waiting to cross the road while sporting a paper bag covering their head. The quirky choice of headgear sparked a wave of witty comments and responses from amused onlookers.

Bengaluru traffic jam holds Ferraris hostage: Thousands of HP powerless (WATCH)
The tweet showcasing this 'desi jugaad' invoked a chorus of laughter online, with many deeming it a classic example of 'typical Bengaluru behaviour.' People were left in stitches witnessing this ingenious yet unconventional 'helmet' alternative, speculating about the rationale behind this choice.
Several users hilariously dubbed the paper bag as a potential 'Bheja Fry parcel' or joked that it could be ''Safer than a Tin Foil Hat.'' Speculations about the person's identity ranged from guessing if it was a celebrity incognito to innovative protection against dust, cold, or polluted winds.

Spotlight on civic apathy in Bengaluru, white-topped road caves in at a busy stretch in the I-T capital
Netizens contributed to the comic narrative, suggesting amusing theories like using a 'Kanti Sweets cover as a Helmet' or facetiously stating its recycled helmet nature with ''100% recyclability and 0% head protection.'' Some jestingly commented that the individual might be concealing their face to dodge a creditor or even humorously suggested the head could double up as a disguised number plate or an AI camera test.
The online banter surrounding this quirky paper bag 'helmet' has left social media users in splits, turning the everyday Bengaluru scenes to online banter.
Last Updated Nov 14, 2023, 5:13 PM IST