12k for 1RK flat in Bengaluru? Internet explodes with hilarious reactions
A comically cramped room rental listing in Bengaluru, priced at Rs. 12,000, went viral on Reddit, sparking humour and disbelief among users. The unconventional setup left many amused and highlighted Bengaluru's quirks.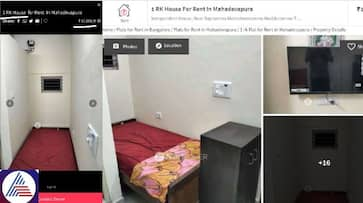 A rental listing in Bengaluru recently took the internet by storm, thanks to its unconventional and comically cramped setup. Listed on the No Broker app for a monthly rent of Rs. 12,000, the room in question left Reddit users in stitches.
The uproar began when Reddit user @saiya posted a picture of the peculiar living space on the 'India' subreddit. The image showcased a room where a single bed barely squeezed in, defying the typical notion of a bedroom's comfort and space. The caption summed up the sentiment: "A room for bed is a bedroom. WTF Bangalore : ) What the hell? Why? 12k for this shit, and there'll be some dumbfuck who'd actually pay."

Renting a flat in Bengaluru proved expensive for techie, loses Rs 64000 to scammer posing as owner
Reddit users wasted no time in unleashing their wit and humour on this eccentric listing. User 'CanadaClownNation' imagined a sinister twist, suggesting, "They even gave you the air vent so Freddy Fazbear can jumpscare you at night."
Taking a dig at Bengaluru's notorious weather, another user quipped, "But Bangalore weaTher bRo." One user even teased, "Come with Real ID Mumbai."

PG and hostels in Bengaluru will get costlier; Here's why
While some users found the listing amusing, others took a more rational approach. One commented, "This just looks like a poorly designed apartment, but nowhere near an issue like OP is trying to make it out to be." Another reasoned, "If it is fully furnished like that and the rent and deposit are as stated (which is never going to be the case) then this is a normal deal tbh, considering Mahadevpura is one of the more expensive localities."

In the end, this peculiar rental listing prompted a dose of laughter and a few raised eyebrows. It's a reminder that in Bengaluru, 'normal' often takes a back seat to quirkiness, leaving residents and onlookers alike amused and entertained by the city's unique character.
A room for bed is a bedroom. WTF Bangalore : )
byu/_saiya_ inindia
Last Updated Oct 10, 2023, 1:06 PM IST