ISL 2023-24: NorthEast United FC feels like home, says Parthib Gogoi after extending contract
NorthEast United FC midfielder Parthib Gogoi has inked a four-year contract extension, solidifying his dedication to the club until 2027. The rising football talent from Assam, known for his impressive debut season in 2022-23, is making waves in the ongoing ISL 2023-24 season with notable performances and striking goals.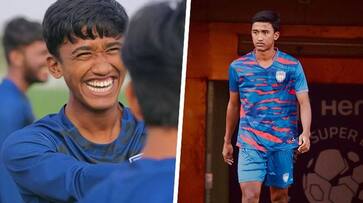 Midfielder Parthib Gogoi of NorthEast United FC has recently extended his contract by four years, reinforcing his dedication to the Guwahati-based team until 2027. On Monday, Parthib Gogoi, a midfielder for NorthEast United FC, signed a contract extension for four years, affirming his allegiance to the team based in Guwahati until 2027. Gogoi, who made the move to NorthEast United FC from I-League's Indian Arrows just last year, had an impressive debut season in the Indian Super League (ISL) in 2022-23, contributing three goals and an assist.
In the ongoing ISL 2023-24 season, Gogoi is reaching new heights. The player, originally from Assam, has already scored three goals in three games, showcasing his skills. NorthEast United FC currently holds the fifth position in the league with 4 points, having suffered only one defeat, against the defending League Shield winners, Mumbai City FC. Gogoi has scored three out of the team's five goals, establishing himself as a crucial player under the guidance of head coach Juan Pedro Benali.
While the previous season offered glimpses of Gogoi's brilliance, the current season truly displays his potential. Since Benali assumed the role of head coach before the 2022-23 season, Gogoi has been playing with increased freedom. He began the season impressively, securing his first hat-trick for the club against Shillong Lajong FC in their Durand Cup opener. Gogoi played a pivotal role in helping the Highlanders reach the semi-finals.
This season, Gogoi has consistently impressed fans with remarkable long-range strikes. All of his goals have originated from outside the penalty box, highlighting his exceptional shooting ability and consistency. Gogoi has now become NorthEast United FC's primary player.
Expressing his feelings about extending his contract with the Highlanders, Gogoi stated, "Every time I step onto the field, it gives me goosebumps. I will never forget my first professional goal in the ISL against Mumbai City FC. From there to my first senior hat-trick against Shillong Lajong, scoring these goals here has been a privilege. Now, it's time to start a new chapter."
Hailing from the small town of Sivasagar in Assam, Gogoi is one of the few ISL players representing his home state. The 20-year-old has received significant support from NorthEast United FC fans since his arrival and has formed a strong bond with the local crowd. Gogoi remarked, "This club feels like home. I can't imagine being anywhere else. Let's make the next chapter legendary."
Gogoi has not only realized his dream of playing in the ISL but has also reunited with his elder brother Pragyan, who has been a part of NorthEast United FC since 2020. He expressed his gratitude to the club for enabling him to play alongside his brother and fulfill his parents' aspirations, stating, "My parents dreamt about us playing together. NorthEast United FC made it happen last year."
Also Read: Football, festivities and fanfare: Brazilian legend Ronaldinho's Kolkata sojourn (WATCH)
Last Updated Oct 17, 2023, 5:25 PM IST