ISL 2023-24: Juan Ferrando lauds Dimitri Petratos for inspiring MBSG's victory in opener against Punjab FC
Mohun Bagan Super Giant's head coach, Juan Ferrando, praises forward Dimitri Petratos for his hard work and contribution to their victory against Punjab FC in the Indian Super League opener, emphasizing the importance of teamwork and unity.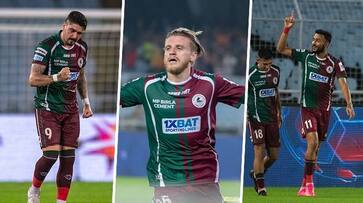 Mohun Bagan Super Giant's head coach, Juan Ferrando, expressed his admiration for forward Dimitri Petratos, applauding his hard work and contribution to their 3-1 victory against Punjab FC in their Indian Super League 2023-24 opener at the Vivekananda Yuba Bharati Krirangan in Kolkata.
In the match, Jason Cummings, Petratos, and Manvir found the net for Mohun Bagan SG, while Luka Majcen scored for the visitors. Petratos, the Australian forward, played a pivotal role in the game, not only opening his account for the season but also assisting in the third goal and earning the Player of the Match award.
Ferrando emphasized that Petratos serves as an exemplary role model for his teammates with his diligent work ethic. He highlighted the importance of teamwork and trust in their game plan, emphasizing that success is not achieved through magic but through hard work and unity. He encouraged his players to follow Petratos' example and expressed hope for more positive results in the future.
"It is the same as last. I'm so happy because Dimitri is an example for the rest of his teammates to work hard. This is good and this is the way. It's not magic and I don't know if we will win matches in future, but one important thing is that the team works (together) and trusts in one plan. In the case of Dimitri, he is a good example for the rest of his teammates. It's necessary that they follow him in this way and I hope we will get more closer to good results," Ferrando stated in the post-match press conference.
At halftime, Mohun Bagan SG held a comfortable two-goal lead, but Punjab FC's Majcen scored, rekindling hopes of a comeback. However, the Mariners not only defended resolutely but also maintained their attacking intent. Singh scored just two minutes after coming on as a substitute, and the team had several opportunities to increase their goal tally.
Ferrando commended his team's reaction to the Punjab FC goal, highlighting their determination to attack and secure the win. He expressed pride in his players' hard work and their ability to respond effectively in challenging situations, especially given their busy schedule with multiple matches in a short span.
The coach acknowledged the impressive efforts of his players, particularly in the context of their demanding schedule, which includes back-to-back matches in the AFC Cup and the Indian Super League. Ferrando expressed his pleasure in seeing his players work diligently and exhibit resilience during difficult moments on the field.
"I'm happy because after the goal (for Punjab FC), the reaction of the team was to attack. We scored the third goal with good actions so I'm happy. I think it's necessary to explain to everybody that the job (done) by these players is amazing. In seven days, we have three important matches. The last match was in the AFC Cup, then two matches in the league and then again in the AFC Cup on Monday. It's a pleasure when the players are working hard and have a good reaction in difficult moments," Ferrando explained.
Last Updated Sep 24, 2023, 11:01 AM IST