ISL 2022-23: Brdaric wants Chennaiyin FC to convert chances to win; ATKMB's Ferrando disappointed with draw
Chennaiyin FC played their third consecutive draw, sharing spoils in a goalless game against ATK Mohun Bagan in the Indian Super League (ISL) 2022-23 at the Jawaharlal Nehru Stadium in Chennai on Saturday.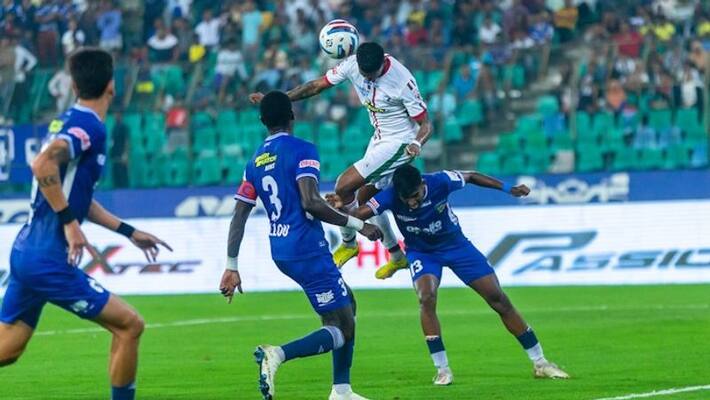 Chennaiyin FC played their third consecutive draw, sharing spoils in a goalless game against ATK Mohun Bagan in the Indian Super League (ISL) 2022-23 at the Jawaharlal Nehru Stadium in Chennai on Saturday. In terms of playoff moves, both Chennaiyin FC and ATK Mohun Bagan gained no significant advantage through this result.
Following the game, Chennaiyin FC head coach Thomas Brdaric stated his team needs to convert their chances and win to take their game to the next level.
"If you had told me at the beginning of the season that we'll take four points from ATK Mohun Bagan, I would've agreed directly. We have to win against other teams, ATK Mohun Bagan is a strong team and also the match was balanced today. They could've scored and we could've scored as well and you saw two strong teams today. I'm proud that we can compete with those teams and I hope that we still believe in ourselves. There are six matches left, we'll get opportunities to win matches against the teams where we have to win and then the situation will be better," Brdaric said in the official post-match press conference.
The Marina Machans have collected four points with four draws and one loss in their last five games. Bradric stated that the squad must score and win in these games to advance.
"A draw is not bad but we can improve in some spells. We can have better composure, there were too many loose balls and we invited ATK Mohun Bagan to create opportunities. When we gave the ball away then only ATK Mohun Bagan were able to create danger otherwise they were not able to create something special so that's why I'm satisfied with the defending. In attack, we had a bit of bad luck. In the first half, we could've scored and in the second half, the goalkeeper performed well. It was really a strong match but if we want to take the next step, we have to score and win," he said.
Teams are preparing for the last push for gold as the playoff battle heats up, with just six points separating Bengaluru FC in seventh place and Kerala Blasters FC in third place. The head coach of Chennaiyin FC emphasised that anything might happen in the final six games.
"We have a good match plan and we have to understand that we don't get punished due to foolish things. The last few matches were very close, we were disappointed in Jamshedpur that we couldn't win there but in all the other games we had good performances and we can build up on that. And that's why I'm not concerned about the situation, of course, we want to be in a much better position but anything can happen in the last six matches," Brdaric added.
The following league matchup pits Bengaluru FC against Chennaiyin FC. The Blues are currently in seventh place and two points ahead of Brdaric's team. Brdaric discussed his team's development with young Indian players and how this is the first season of a reconstruction.
"For me, it's very important that the picture looks good and don't forget we are building. In the first year as CFC head coach it is a new situation in the Hero ISL. We have pretty good players with a lot of dedication, humility and potential. We have foreigners and don't forget, foreign players should make a difference. We lifted up the level of Indian players, like Aakash (Sangwan), Ajith (Kumar), and Jiteshwor (Singh)," Brdaric concluded.
Meanwhile, ATK Mohun Bagan head coach Juan Ferrando expressed his disappointment after his side were held to a goalless draw against Chennaiyin FC. 
"We had some big chances to win the match. Chennaiyin FC also had three-four clear chances. In my point of view, both sides are disappointed because both tried to get the three points and tried to win. At the end, it's a draw and point for both teams. It's not good for us. At this moment, we are not in the best moment in terms of our performances during the season. But it's necessary to focus on the next game," Ferrando said in the post-match press conference.
Manvir Singh began his first game following his injury comeback, but he was unable to really trouble the opposition's defence. Liston Colaco and Dimitri Petratos, who were both starters, also had two shots each, however, they were unsuccessful in beating the goalie. Ferrando has faith in his forwards to recover in the ensuing games.
"Sometimes it's part of football. Maybe we need to work on the emotional aspect. This season we have created a lot of chances, but we missed them. In this case, our wingers have not had a lot of success this season. But I support them because I trust in them. But this is the problem. Sometimes it is necessary to support the players when we have no success and continue working because when you are working 100% you will have success in the future. We are disappointed because we lost points. But my target is to work and help them," he explained.
In their 14 games this season, the Mariners have only managed to score 17 goals. Nine of their 17 goals have come from Dimitri Petratos (five goals) and Hugo Boumous (four goals), while the Indian players for ATKMB have struggled to settle in. Ferrando believed that the young Indian players may have buckled under pressure, but he supported their future success.
"ATK Mohun Bagan is a big club. There is a lot of pressure, this is the truth. And in this club, only victories are accepted and it's difficult for the players. My target is to support the players and help them. Kiyan (Nassiri), Liston (Colaco), Manvir (Singh), (Mohammad) Fardin are young players and I want to help them. It's a difficult job because it's normal when you are at a different club and this pressure doesn't exist," he stated.
"You can work more with the young players, take your time when you have a draw, change some details, it's good when the message is positive. But here, what is accepted is that you win and play well. But I accept this challenge. I am not scared. If players accept this pressure in three-four years, in their best moment of their career, their performances will be better. And they can support the club and the national team," Ferrando concluded.
Last Updated Jan 22, 2023, 12:50 PM IST