Why theory of ISI carrying out hit on Hardeep Singh Nijjar is credible
The assassination of Hardeep Singh Nijjar, a Canadian citizen and leader of the banned 'Khalistan Tiger Force,' in Surrey, Canada, has unveiled a complex web of intrigue. Reports suggest the involvement of Pakistan's ISI in meticulously planning this assassination. Girish Linganna reports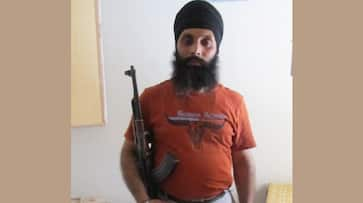 Startling disclosures have surfaced that the assassination of Canadian citizen and chief of the banned 'Khalistan Tiger Force' Hardeep Singh Nijjar in a parking area outside a gurdwara in Canada's Surrey, British Columbia, on June 18 was meticulously orchestrated and synchronized by agents of Pakistan's Inter-Services Intelligence (ISI) based in that country. 
Several media reports quoting undisclosed informants have stated that the reported assassination is suspected to have been plotted by India's neighbour and its intelligence agency with the aim of straining diplomatic relations between India and Canada.
Aftermath of The Killing
Since the killing, Canada's relationship with India has nosedived, with Canadian Prime Minister Justin Trudeau stating in a speech in his country's Parliament over a week ago that there were "credible claims" suggesting the involvement of Indian agents in the killing of Nijjar on his country's soil. In 2020, India had designated Nijjar, 45, a "terrorist". 
In a strong retaliation to Trudeau's insinuations, New Delhi has rejected Canada's claim as "absurd" and "motivated" and also announced the temporary suspension of visas being issued to Canadian citizens, besides asking Ottawa to downsize its diplomatic presence in the country.
Quick to take up cudgels for the slain terrorist whom he called 'brother', the firebrand leader of the banned outfit, Sikhs for Justice (SFJ), Gurpatwant Singh Pannun, in a jingoistic stance, warned all Hindus residing in Canada to leave the country immediately. While declaring "Death to India" and "Balkanisation of India", Pannun also announced plans for a fresh referendum on the formation of a 'Khalistan state' scheduled to be held in that country on October 29, 2023. 
Pannun has become irrepressibly aggressive since the killing of the latter in June this year. His unsubstantiated accusations even mentioned that the needle of suspicion pointed at the complicity of the Indian High Commissioner to Canada, Sanjay Verma, in Nijjar's killing. The SFJ has called repeatedly for the expulsion of Verma and some other diplomats posted in Canada, besides taking out posters against them threatening death.
Indications of ISI Involvement
The sources have disclosed that individuals with criminal histories were reportedly recruited by the ISI to carry out Nijjar's murder. According to the latest insider information that has surfaced, Rahat Rao and Tariq Kiyani are two alleged operatives deployed by the ISI in Canada to primarily conduct their activities abroad. The motive behind Rao and Kiyani's potential involvement in Nijjar's killing could be linked to business interests and the desire to profit from new associates.
As Nijjar was steadily gaining popularity and clout within the local Canadian community, the responsibility of eliminating him might have been assigned to one of these two individuals, Rao or Kiyani, possibly with the aim of securing direct control over the local drug trade. 
The sources have revealed that a trio comprising Rao, Kiyani and Pannun may have played a role in this operation to gain control over the lucrative drug and immigration businesses, which serve as their primary source of income. Nijjar's close connections with such Pakistan-based group leaders as Wadhwa Singh and Ranjeet Singh Neeta posed a challenge for the ISI as this association hindered their ability to execute significant operations, the information revealed. 
The primary motive behind the killing is purportedly linked to the ISI's pressure on Nijjar to provide support to gangsters who had recently entered Canada in the past two years so that the ISI could get more cuts from these new entrants. However, Nijjar's alignment with former Khalistani leaders reportedly clashed with the ISI's agenda. Moreover, there are indications that the ISI is actively engaged in identifying a successor to Nijjar and is currently in the process of mobilizing Khalistani extremists within Canada. 
The Premeditated Homicide
The responsibility for assassinating Nijjar was allegedly assigned by Pakistan's ISI to skilled marksmen who were of a shorter stature and had a robust build. They wore face masks and hoodies to hide their identities. During the attack, a white sedan obstructed Nijjar's vehicle and the assailants, armed with firearms, swiftly ambushed him, discharging a total of 50 bullets. 
Following the attack, the assailants fled the scene and police officers and the authorities arrived 20 minutes later. It has been suggested that Nijjar's cautious and secretive nature may not have made it feasible for anyone, regardless of their identity, to carry out the task unless they knew him well. 
Interestingly, Nijjar's neighbourhood reportedly harbours several former ISI officials, ranging from major generals to lower-ranking personnel, any one of whom may have been tasked with Nijjar's killing so that Rao and Kiyani might directly control the drug cartel.
Nijjar had met several officers of the Canadian Security Intelligence Service (CSIS) just six days before his demise, according to Nijjar's son, Balraj Singh Nijjar, 21. Certain Canadian authorities purportedly recommended that Nijjar visit the gurdwara. There is also a belief that the Canadian authorities may have facilitated access for the assailants. This is seen as a conspiracy of betrayal orchestrated and devised by the ISI. 
The undisclosed sources said the Indian intelligence agencies failed to figure out exactly why Nijjar was not provided closer physical protection since 'reliable intelligence inputs' had already indicated a threat to his life. This, possibly, demonstrated the complicity of the Canadian authorities in the ISI plot and in making access to Nijjar easier for his assailants. 
India's Address at the UNGA
In a recent speech at the 78th United Nations General Assembly (UNGA) session, India's Minister for External Affairs, Subrahmanyam Jaishankar, called on member-states to base their response to extremism, terrorism and violence on principles rather than political expediency. 
He underscored the significance of respecting territorial integrity and refraining from meddling in internal matters, emphasizing that selective approaches were no longer tolerated and that the era of a few nations imposing their agendas on others had ended.
The author of this article is a Defence, Aerospace & Political Analyst based in Bengaluru. He is also the Director of ADD Engineering Components, India, Pvt. Ltd, a subsidiary of ADD Engineering GmbH, Germany. 
Last Updated Sep 30, 2023, 12:36 AM IST