Why tensions are high in Haryana's Nuh once again
Mobile Internet and bulk SMS services have been restricted in the Nuh district until August 28 due to concerns related to VHP's 'Shobha Yatra'. The decision was made to prevent potential communal flare-ups in the region, particularly with the upcoming G20 Sherpa Group meeting scheduled for September 3-7 in Nuh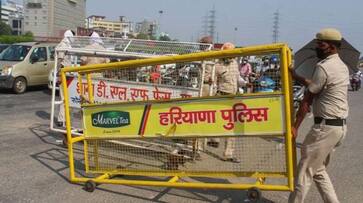 The Haryana government on Saturday decided to suspend mobile Internet and bulk SMS services in the Nuh district, which has been experiencing communal tensions, until August 28. This move was in response to a scheduled 'shobha yatra.'
Acknowledging the potential challenges posed by the yatra, Director-General of Police Shatrujeet Kapur conducted a meeting with senior officers from neighbouring states via videoconference. He emphasized the need for a coordinated approach to effectively manage the situation.
During this meeting, attended by senior police officials from Punjab, Delhi, Uttar Pradesh, Rajasthan, and the Union Territory of Chandigarh, Kapur explained that the denial of permission for the yatra was due to the upcoming G20 Sherpa Group meeting scheduled for September 3-7 in Nuh and the imperative to maintain law and order following the unrest on July 31.
Authorities were concerned that the Shobha Yatra, organized by the Vishwa Hindu Parishad (VHP), might potentially spark fresh violence in the state, creating disturbances just days before the G20 Summit in Delhi.
In addition to imposing Section 144, there were restrictions on the general public's movement, and shops were advised to remain closed on Monday. Strict enforcement of prohibitory orders under CrPC Section 144 was also planned, as per reports from PTI.
Following the denial of permission for the Shobha Yatra by the authorities, the VHP asserted that they did not require any approval from the state administration to conduct religious events. The Hindu organization expressed its intention to proceed with the yatra on August 28.
However, they also conveyed their willingness to engage in discussions with the administration regarding the procession's nature and scale, emphasizing that they did not want it to overshadow the G20 event.
'I'm handicapped, so...': UP teacher justifies 'slapping' Muslim student after video ges viral
Chandrayaan-3: ISRO releases new video of Pragyan rover roaming around Shiv Shakti point
Last Updated Aug 27, 2023, 9:31 AM IST