Why ISKCON sued BJP MP Maneka Gandhi for Rs 100 crore
Gandhi's controversial remarks, stemming from her visit to an ISKCON cow shelter, have led to a defamation notice of Rs 100 crore. ISKCON vehemently denies the allegations and reaffirms its dedication to cow protection, detailing its global efforts in this regard.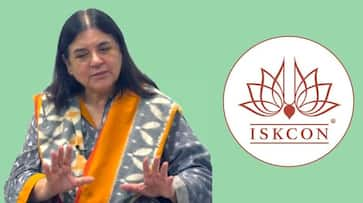 The International Society for Krishna Consciousness (ISKCON) has taken legal action against BJP MP Maneka Gandhi, issuing a defamation notice amounting to Rs 100 crore in response to her recent contentious remarks. Gandhi alleged that ISKCON engaged in the sale of cows to butchers, citing her visit to ISKCON's Anantpur Goshala in Andhra Pradesh, where she claimed not to find a single milk cow and inferred that all cows from ISKCON's Goshalas had been sold for slaughter.
In a viral video, Maneka Gandhi harshly criticized ISKCON, branding them as the country's biggest deceivers. She accused ISKCON of establishing gaushalas (cow shelters) to reap government benefits and acquire vast tracts of land, alleging that no dry cows or calves were present during her visit to the Anantpur gaushala. She further asserted that ISKCON was involved in selling cows to butchers, emphasizing that no other entity engaged in such practices to the extent that ISKCON did. Gandhi also commented on ISKCON's public chanting of "hare ram hare krishna" and their purported dependence on milk, insinuating hypocrisy in their actions.
In response to the controversy, ISKCON announced its intent to pursue legal action against the former Union minister. ISKCON Vice President Radharamn Das expressed disappointment over Maneka Gandhi's comments, asserting that they had hurt the sentiments of ISKCON devotees worldwide. He questioned the veracity of her claims, noting that there was no record of her visit to the Anantpur gaushala.
ISKCON monk Amogh Lila Das released a video showcasing the care provided to cows and calves, addressing the misconception that ISKCON sent calves to butchers. He invited Gandhi to witness their treatment and emphasized that visitors were welcome at any time to see the facilities firsthand.
ISKCON issued a statement vehemently refuting Maneka's allegations, emphasizing its commitment to cow and bull protection both in India and globally. The statement clarified that ISKCON cared for cows and bulls throughout their entire lives, refuting claims of their sale to butchers. ISKCON highlighted its role in rescuing and sheltering abandoned, injured, or at-risk cows, emphasizing its dedication to the cause of cow protection.
Last Updated Sep 30, 2023, 9:19 AM IST