Whose Cauvery water is it? Karnataka or Tamil Nadu? Revisiting author KP Poornachandra Tejaswi's words
The Cauvery River dispute persists, causing tensions between Karnataka and Tamil Nadu. Despite the Cauvery River Water Authority's establishment, the issue remains unresolved. Renowned author and environmentalist K.P. Purnachandra Tejaswi emphasized Karnataka's first right to Cauvery water and the need for regional parties to address local problems, advocating for self-sufficiency before assisting others.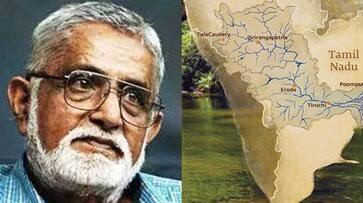 The Cauvery River dispute is still causing tensions between Karnataka and Tamil Nadu, leading to clashes over water issues. Despite the Supreme Court's order of the Cauvery River Water Authority to resolve the problem, it remains unresolved. The hope that this authority would bring an end to the Cauvery dispute has been proven wrong, showing that this issue continues to be a problem.
In this context, renowned Kannada author and environmentalist K P Poornachandra Tejaswi had said few words about the Cauvery dispute between the two states. Those words are still relevant for today's generation.  It has been 16 years since his passing and the words are alive even today.

Cauvery dispute: CWRC orders Karnataka to release 3,000 cusecs of water daily to Tamil Nadu
"In any terrain, there are advantages and disadvantages. The ownership and the primary right to use the natural resources in that area belong to the local community. Just as the mineral wealth and forest products on the land are under the jurisdiction of the respective government, the biodiversity of the region has the first claim on the rainfall and flowing water. Therefore, it's beyond doubt that the first right to Cauvery water belongs to Karnataka. The consideration of assisting others arises only after our own needs are met."

Bengaluru bandh: Dead rat found inside meal supplied to Police personnel
"The day when regional parties become a political necessity is near. The Cauvery dispute is just one example of this tendency. Across the globe, large nations are facing challenges, leading to their fragmentation into smaller states or unions due to economic and administrative issues. It's becoming increasingly impractical for less developed nations to sustain the current centralized administrative system."
Poornachandra Tejaswi, son of famous poet Kuvempu, had emphasised the need for a local party to solve local problems. To safeguard our identities, regional parties are the most suitable in the current generation of politics. Karnataka will always have the first claim on the Cauvery River water. He said that we should help others only after fulfilling our needs. 
Last Updated Sep 26, 2023, 4:33 PM IST