West Bengal: Rift in TMC? East Midnapore sees clash between Shuvendu Adhikari, Abhishek Banerjee
Shuvendu Adhikari lost his position in Trinamool party. Posters of Abhishek Banerjee are being put up in across Tamluk city. Shuvendu's followers are also putting up posters of him but without any political party sign. Separate posters of two leaders of the same political party have been seen in East Midnapore.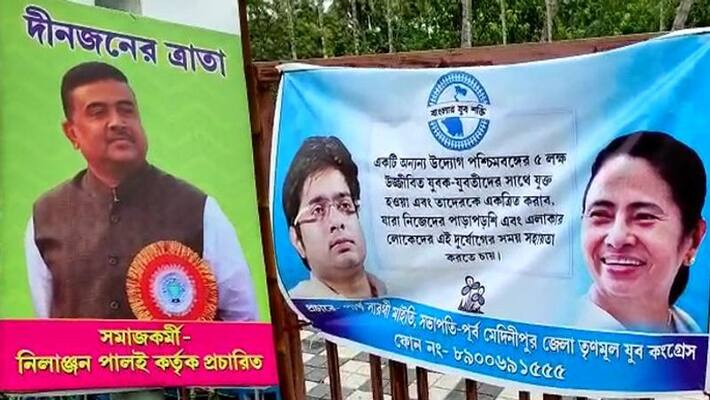 Kolkata: The importance of Shuvendu Adhikari in the Trinamool party seems to be gradually fading away. Abhishek Bandyopadhyay has removed Shuvendu from the post of state youth president. After excluding him from important responsibilities of the organisation, Shuvendu Adhikari has been given a place in the seven-member core committee. After this, the district organisation of East Midnapore Trinamool party was also reorganised. Partha Sarathi Maiti became the district youth president.
A new look in the city of Tamluk was seen by Shuvendu's followers. Posters with pictures of Abhishek Banerjee and Mamata Banerjee have been put up all over the city. On the other hand, posters of Shuvendu Adhikari without any political party sign was put up in various parts of the city.
Political tensions have erupted across East Midnapore district over posters of two important leaders of the state's ruling party at various places in Tamluk. Posters were made in support of Abhishek Banerjee across Tamluk soon after Partha Sarathi Maiti got the post of district youth president. However, posters of Shuvendu Adhikari was also seen in the same place. Shuvendu Adhikari was portrayed as a social worker without the banner of any political party in the posters.
A number of posters were seen in support of Abhishek Banerjee from Maniktala to Nimtala in Tamluk city. Many posters have been put up at various light posts on the road. As a part of revenge, Shuvendu Adhikari's followers have also put up his posters on the same places where Abhishek Banerjee's poster was put up.
These are indicators of a huge tiff within the Trinamool Congress.
Trinamool district youth president Partha Sarathi Maiti has denied such allegations. He said, "We are working as per the instructions of the state youth president. Posters in support of Abhishek have been put up all over the city of Tamluk to pay homage to the top leader of the organisation."
On the other hand, Shuvendu's followers have also denied allegations regarding the huge tiff between people inside Trinamool party. They said, "Shuvendu Adhikari is working for different levels of people in society. He has always been with people during tough times." Out of love for Shuvendu Adhikari, his followers have put up posters calling him a social worker.
BJP district leaders have strongly criticised the development. However, the importance of Shuvendu Adhikari has been underestimated in the recent events of TMC.
 
Last Updated Aug 22, 2020, 3:13 PM IST