Viral video of noodle-making process in Kolkata factory sparks disgust on the internet (WATCH)
In a recent Instagram video, a noodle-making process at a factory in Kolkata has raised serious concerns about hygiene standards, leaving viewers cringing at the conditions observed.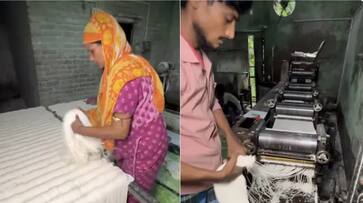 For many street food enthusiasts, a hot plate of noodles served with fresh vegetables like carrots, cabbage, and capsicum is a beloved treat. However, a recent Instagram video takes you behind the scenes of noodle production in a Kolkata factory, revealing an environment that falls far short of acceptable cleanliness standards. The video has sparked outrage in the foodie community, leading to strong expressions of disapproval and disgust in the comment section.
The video unfolds with the preparation of the noodle dough, which includes the mixing of noodles previously on the factory floor with flour and water. This dough is then passed through a pressing machine, forming a thin sheet that is eventually cut into noodle shapes using a cutter. These freshly cut noodles are suspended on rod-like structures and steamed until fully cooked.
After the steaming process, the noodles hanging on the rods are lowered using sacks. To the surprise of many, a significant batch of these noodles is placed directly on the floor. These floor-placed noodles are then packed into polythene bags for distribution to vendors.
The video quickly gained traction, amassing over 3 million views and sparking a wave of concern within the food enthusiast community. Viewers expressed their apprehensions about the unclean environment in the comment section. Some questioned the legality of such practices, while others went as far as to dub the noodles as "foot fungus-flavored chowmein." "Hygiene left the chat," exclaimed one commenter, with another lamenting, "Hygiene is a sin."
The video's portrayal of noodle production at this Kolkata factory has ignited a broader conversation about food safety and hygiene practices within the industry, reminding consumers of the importance of knowing what goes on behind the scenes of their favorite dishes.
Last Updated Oct 16, 2023, 1:05 PM IST