Uttarakhand tunnel collapse: 'Cracking sound' brings operation to rescue 41 stranded workers to a halt
The National Highways and Infrastructure Development Corporation (NHIDCL) expressed concerns about the possibility of further collapse. The trapped workers, experiencing higher temperatures inside the tunnel, did not report feeling cold.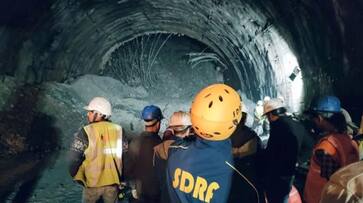 The operation to rescue 41 trapped labourers in an under-construction Silkyara tunnel in Uttarakhand faced significant challenges, disrupting progress and raising concerns about the safety of the rescue mission. The efforts were temporarily halted after rescuers heard a sudden 'cracking sound,' leading to panic among the team. Prior to this, a technical snag had already affected the rescue drive as the second drilling machine suffered damage.
Anshu Manish Khulko, the Director of the tunnel-making company NHIDCL, reported that the drilling work inside the tunnel has come to a standstill. Despite inquiries about a possible machine breakdown, Khulko asserted that there was no fault in the machine. The NHIDCL, in a statement, acknowledged the recurrence of a similar cracking sound, heightening the concern of a potential further collapse.
Inside the tunnel, the temperature remained higher than outside, and the trapped labourers did not report feeling cold, even as night temperatures dropped to 13 degrees Celsius. The rescue plan involved sifting through 65 to 70 meters of debris using drilling machines and pushing two pipes (800 mm and 900 mm) sequentially to create an escape passage. However, the operation faced a setback after successfully advancing the pipes for 22 meters.
In the midst of the rescue efforts, the Indian Air Force was called upon to airlift approximately 22 tonnes of critical equipment from Indore to Dehradun. The 25-tonne American-made drilling machine, though in use, progressed at a rate lower than anticipated. NHIDCL Director Anshu Manish Khalkho attributed the sluggish progress to the time-consuming process of aligning and welding pipes before pushing through the debris.
Meanwhile, an official from the Odisha government's Labor department communicated with the five workers from Odisha among the 40 trapped laborers in the Uttarkashi district of Uttarakhand. The situation remains complex, with the safety and success of the ongoing rescue mission at the forefront of concerns.
Last Updated Nov 18, 2023, 10:00 AM IST