'Unbelievably authentic': Japanese-owned South Indian restaurant in Kyoto impresses diners; posts goes viral
A story about a remarkably authentic South Indian restaurant in Kyoto, Japan, owned by Japanese individuals, and their deep appreciation for Indian culture and flavours.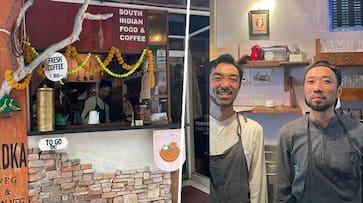 Indian cuisine has garnered widespread popularity on a global scale, often becoming a preferred choice for travelers abroad due to their affinity for the rich Indian flavours. However, finding an eatery that truly captures these authentic tastes outside India can be quite challenging. Recently, a social media user shared an intriguing tale about discovering a remarkably authentic South Indian restaurant named Tadka in Kyoto, Japan, owned and operated by Japanese individuals, leaving a lasting impression on the internet.
Prasanna Karthik, a former policy advisor to the Chief Minister of Goa, took to the microblogging platform X to share his remarkable experience at Tadka. Karthik described the restaurant as a "kick-a** south Indian restaurant. 
He wrote, "I visited this kick-a** south Indian restaurant called Tadka in Kyoto, Japan. Tadka is owned and run by Japanese people. They visit Chennai once every 6 months, learn new dishes, practice it to perfection and add it to their menu. In Tadka, I had one of the best South Indian meals I've ever had, even after judging by the standards of my Chennai upbringings. The dosa and idli were unbelievably authentic."
According to Karthik, Tadka primarily caters to Japanese customers, with very few Indian patrons. He commended the establishment for its contribution to India's soft power, noting that it has captured the hearts of its Japanese customers with its flavours. "Apparently Tadka has very very few Indians eating there. Its customers are mostly Japanese customers who have fallen in love with the food there. what a way to contribute to India's soft power!!!" he added.
"In a country that uses chop-sticks to eat food, Tadka actively promotes eating by hand... in true south Indian style," Karthik noted.
In a further testament to the deep embrace of Indian culture by the proprietors, Karthik shared an anecdote about the chefs' profound immersion in Indian traditions. "During all their visits to Chennai, they visit Tiruvanamalai (a temple town in Tamil Nadu) and spend time for meditation in the Ashram of Bhagwan Ramana Maharishi - a renowned Advaita Vedanta teacher and jivan mukta. Ramana's picture can be seen in the background," he wrote.
Karthik also lauded the restaurant's hospitality, mentioning that they graciously offered him a complimentary cup of South Indian filter coffee. He added, "I don't have coffee or tea. But when I was leaving, they gave me a complimentary cup of south Indian filter coffee. Since I did not want to be rude, I accepted it. It turned out to be the best filter coffee I've ever had. These guys took Japanese precision to an all new level."
The tale shared by Karthik encapsulates the depth of cultural appreciation, culinary finesse, and a true fusion of Indian and Japanese traditions at Tadka in Kyoto, an embodiment of genuine Indian flavours flourishing in the heart of Japan.
Last Updated Oct 30, 2023, 5:01 PM IST