Uddhav Thackeray's 'Godhra-like incident after Ram temple inauguration' draws BJP's ire
Union Minister Anurag Thakur slammed the Maharashtra politician for being "greedy" and swung the question around to the ongoing row over Tamil Nadu minister Udhayanidhi Stalin's remark on 'Sanatan Dharm'.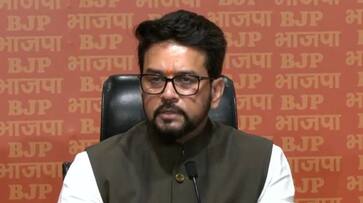 Union minister Anurag Thakur slammed Congress leader Rahul Gandhi and Shiv Sena (UBT) head Uddhav Thackrey over their silence on efforts made by Opposition leaders to "insult" Sanatan Dharma. The Bharatiya Janata Party (BJP) leader's comments came amid a political controversy after DMK leader Udhayanidhi Stalin accused Sanatan Dharma of encouraging racial and social prejudice and called for its eradication.
A few days after Stalin's remark, A Raja, another DMK leader, had likened Sanatan Dharma to diseases like leprosy and HIV which had social stigma. On Shiv Sena (UBT) leader Uddhav Thackeray's statement that a "Godhra-like" incident would occur following the inauguration of the Ram Temple in Ayodhya, Uttar Pradesh, Thakur asserted that certain individuals had lost their ideologies out of a desire for power.
Also Read | Dengue in Karnataka: CM Siddaramaiah expresses concern
"I don't know what Balasaheb (late Shiv Sena founder and Uddhav Thackeray's father) would have thought today and what Uddhav ji is doing today for the greed of power. Rahul ji and Uddhav ji did not say a word when so many things were said about Sanatan Dharma," Thakur added.
On Sunday, Thackeray asserted that a "Godhra-like" incident may occur on the "return journey" of the huge crowd that is anticipated to assemble in Ayodhya from all across the nation for the inauguration of the Ram Temple. The temple is likely to be inaugurated in January 2024, ahead of the Lok Sabha polls due next year.
Also Read | After Chandrayaan, it's Samudrayaan: Scientists ready Matsya 6000 submersible for deep-sea exploration
Last Updated Sep 11, 2023, 6:24 PM IST