'Someone coming to hug me is not a security lapse,' says Rahul Gandhi
Hours after Congress leader Rahul Gandhi's alleged 'security breach' during the Bharat Jodo Yatra in Punjab, Gandhi said that he could only see a person who came to hug him, and it was not a security lapse. Rahul Gandhi made the statement after a man tried to hug him during the yatra.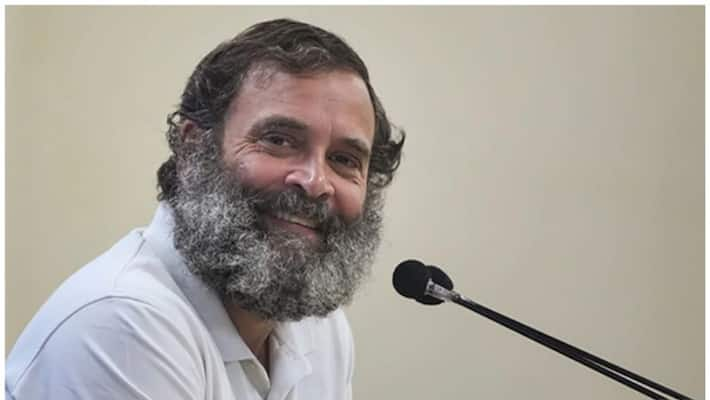 Congress leader Rahul Gandhi said there was no security breach during his Bharat Jodo Yatra in Hoshiarpur, Punjab, on Tuesday, January 17, 2023. Rahul Gandhi's statement came hours after a man attempted to hug Wayanad MP during the march on Tuesday morning; he was pulled away by Congress workers and security. 
"I don't know hay are you calling it a security lapse," Rahul Gandhi said, adding, "Someone coming to hug me is not a security lapse, There's a lot of enthusiasm in this Yatra, and it happens. Security people checked him," Gandhi continued. 
While addressing the media on the last day of the Yatra in Punjab, Gandhi said that the march successfully spread the message of love and compassion against hatred in India.
"Before the 2024 Lok Sabha elections, the BJP will do everything it can to divide people and spread hatred, but we will continue to open shops of love," Rahul Gandhi added. 
Earlier today, a man ran up to Gandhi and attempted to hug him before being pulled away by Congress party workers. Following a viral video, a man wearing an orange jacket can be seen running towards Rahul Gandhi. When he attempted to hug Gandhi, security pulled him away on the march.
On Tuesday, the Congress' Bharat Jodo Yatra resumed from Tanda in Punjab. The march in Punjab began last week in Sirhind, Fatehgarh Sahib, and continues through Mandi Gobindgarh, Khanna, Sahnewal, Ludhiana, Goraya, Phagwara, Jalandhar, Dasyua, and Mukerian. Before the foot march enters Jammu and Kashmir on January 19, a rally will be held in Pathankot.
Congress President Mallikarjun Kharge has invited the presidents of 23 other political parties to the concluding ceremony in the Valley.
Also Read: Security Breach at Bharat Jodo Yatra as man hugs Rahul Gandhi in Punjab's Hoshiarpur; gets pulled away
Also Read: What are PM Modi, FM Sitharaman hiding: Congress on Narayan Rane's 'recession' remark
Also Read: 'Pot is calling kettle black': Punjab CM hits back at Rahul Gandhi over 'remote control CM' jibe
Last Updated Jan 17, 2023, 5:13 PM IST