Row erupts over author Achin Vanaik's anti-Hindu remarks during lecture on Israel-Palestine conflict (WATCH)
During a lecture on 'The History and Politics of the Palestinian Present' in OP Jindal Global University on Wednesday, professor Achin Vanaik allegedly made several anti-Hindu remarks and is said to have attacked PM Narendra Modi over India's stance in the ongoing conflict.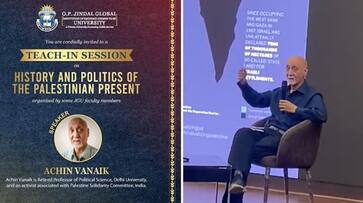 Even as the war between Israel and Hamas rages on in Gaza, a lecture by author and social activist Achin Vanaik on the ongoing conflict at the OP Jindal Global University in Sonapet, Harayana, on Wednesday has stirred up a massive controversy. On November 1, the university hosted a lecture titled 'The History and Politics of the Palestinian Present' delivered by Achin Vanaik, a retired Professor of International Relations and former Head of the Department of Political Science at the University of Delhi, who is now an activist.
Also read: Israel Parliament members moved to tears after watching October 7 Hamas atrocities footage (WATCH)
BJP leaders shared several clips of Achin Vanaik's lecture and alleged that in the name of solidarity with Palestinian civilians in Gaza, the author and social activist made several antisemitic and anti-Hindu remarks. They also alleged that Vanaik attacked PM Narendra Modi's stance on the Israel-Palestine conflict and all took potshots at the RSS, BJP and the Indian Army. According to BJP leaders, Vanaik claimed that Hindus are inherently Islamophobic, but Jews are not.
"Zionism is not anti-Muslim, it is anti-Palestinian, but it is happy to piggyback on current Islamophobia. Hindutva is fundamentally and foundationally anti-Muslim," Vanaik said in one of the clips shared on X.
The author additionally argued against the notion that Hindus are the original inhabitants of India and stated that the belief attributing Hinduism as one of the oldest civilizations is incorrect. Vanaik claimed that the "archaeological and scientific evident shows that Vedic civilisations are much older than the emergence of Vedas by around 2000 years, so now you have to desperately talk about the Saraswati Valley Civilisation."
Although the full video of Vanaik's lecture at OP Jindal Global University is not available, one of the clips seems to suggest that he was referring to Israeli action against Hamas as terrorism. He said that it is selectively said that  'killing our soldiers is terrorism but killing their soldiers is not terrorism.' 
Using the Pulwama terror incident as an example, he asserted that whereas some attacks of a similar nature are not classified as terrorist acts, others are. He was alluding to Israel's campaign in Gaza against Hamas.
He further said, "Understand one thing about suicide bombing, suicide bombing expresses above all the determination of not to kill so much as the determination to die."
Also read: Annihilation of Israel is Hamas' ultimate goal; vows to repeat October 7 massacre multiple times (WATCH)
In articles discussing the Israel-Hamas conflict, the professor has referred to Israel as an 'occupier,' even though Israel does not control the Gaza Strip, as Hamas has complete authority over it. Additionally, the professor has attempted to characterize Israel's military actions against the Hamas organization as terrorism. In his piece for The Wire, he described the October 7 attack as an act of terrorism due to the civilian casualties and questioned why Israel's actions are not widely recognized as terrorism both before and after the Hamas assault.
A spokesperson for OP Jindal Global University dismissed the allegations against Achin Vanaik, stating that "the videos have been taken out of context."
Bharatiya Janata Yuva Morcha (BJYM) national vice president Abhivav Prakash also expressed his views on 'X,' stating, "Shameful event at OP Jindal University glorifying Hamas and suicide attacks while slandering Hindus and India."
Controversial email stirs controversy following Vanaik's lecture
In a recent email related to a talk hosted by OP Jindal Global University, a professor named Dr Sameena Dalwai from Jindal Global Law School made comments that have generated controversy. Dr Dalwai responded to someone who opposed the lecture by Professor Achin Vanaik, who has been described as anti-Hindu and antisemitic.
In her email, Dr Dalwai suggested attending the lecture before passing judgment, stating that it could broaden one's understanding of politics and suffering. She expressed the view that the allegations of Hamas atrocities against Israeli civilians were, in her opinion, "fake news" created by Indian troll armies. She wrote, "India's response has been sad. Fake news of Hamas atrocity is created by Indian troll armies. We know their power- many of us get trolled regularly for our writing."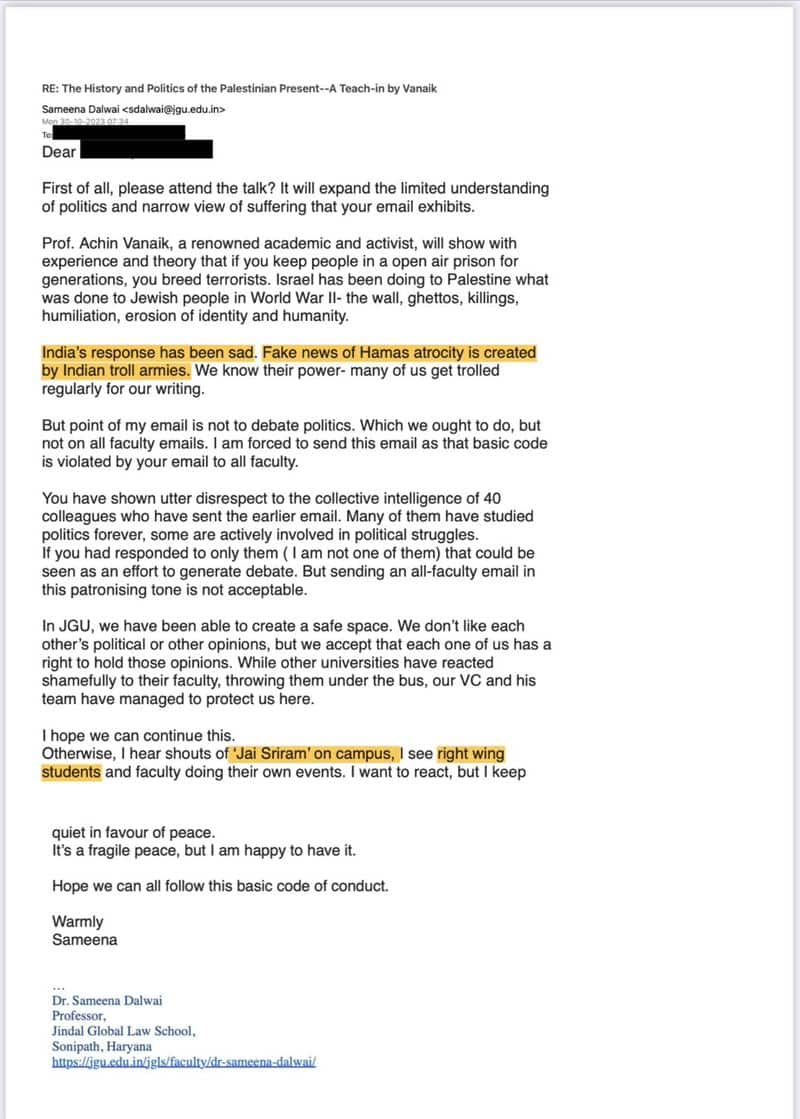 Dr Dalwai asserted that her university values diversity of opinions and takes a different approach from other institutions that she claimed "reacted shamefully" by distancing themselves from their faculty. She expressed her hope that this stance would continue. She also mentioned her awareness of right-wing students and faculty organizing their own events on campus but stated that she often remains quiet to preserve peace, even when confronted with expressions like "Jai Shri Ram."
"Otherwise, I hear shouts of 'Jai Sriram' on campus, I see right wing students and faculty doing their own events. I want to react, but I keep quiet in favour of peace," Dr Dalwai wrote.
Last Updated Nov 2, 2023, 10:57 AM IST