'They obstruct progress...' PM Modi lashes out at 'outdated tactics' of I.N.D.I.A allies
Prime Minister Narendra Modi, during the launch of the redevelopment initiative for 508 railway stations, criticizes the Opposition, asserting the need for positive politics. He cites instances of opposition to key projects like the new Parliament building, Kartavya Path, and the National War Memorial.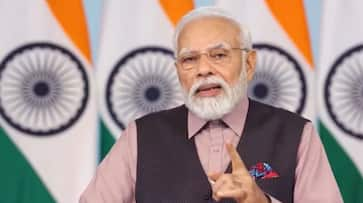 Prime Minister Narendra Modi on Sunday launched a scathing attack on the Opposition and reiterated the 'Quit I.N.D.I.A' stand during the launch of the redevelopment work at 508 railway stations across the nation. Addressing the audience at the event, PM Modi expressed, "Regrettably, a segment of the Opposition in our country persists in adhering to outdated tactics. They obstruct progress both by their inaction and their hindrance of others' efforts... The nation erected a contemporary Parliament building, an emblem of our democracy. It accommodates voices from both the ruling side and the Opposition. However, this faction of the Opposition opposed the new Parliament structure."
"Even the redevelopment of Kartavya Path faced their opposition. Over seven decades, they failed to establish a war memorial honouring our valiant soldiers. When we established the National War Memorial, they publicly criticized it without hesitation. The Statue of Unity, a homage to Sardar Vallabhbhai Patel, stands as the world's tallest statue. Despite its significance, prominent leaders from certain political parties never visited it. Nevertheless, transcending negative politics, we stride forward with a mission of positive politics."
The Prime Minister said that it is time for 'dynasty, corruption and appeasement to quit India'. "Inspired by Quit India Movement, the entire country is now saying corruption, dynasty, appeasement should quit India," PM Modi said.
He further stated, "Today, the world directs its attention to India. Our global prestige has surged, owing to two pivotal reasons - first, the Indian populace elected a majority government after nearly three decades; second, this majority government made significant decisions while consistently seeking permanent solutions to challenges."
The extensive redevelopment venture, with a budget of Rs 24,470 crore, aims to introduce contemporary passenger facilities. It also prioritizes well-structured traffic flow, seamless inter-modal integration, and informative signage for passenger guidance. Local culture, heritage, and architectural traditions will influence the design of station buildings, as highlighted by the Prime Minister's Office (PMO).
Ghaziabad: Delivery boy rescues minor girl from stray dogs in residential society (WATCH)
Last Updated Aug 6, 2023, 12:53 PM IST