India to be developed nation by 2047; will be in top three economies of world soon: PM Modi
"India will be a developed nation by 2047; corruption, casteism and communalism will have no place in our national life," the Prime Minister said. Ahead of the G20 Summit in New Delhi on September 9 and 10, PM Modi has talked about the G20 Summit and other important issues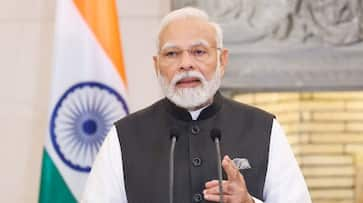 India will be a developed nation by 2047 and it will have no place for corruption, casteism and communalism, Prime Minister Narendra Modi said. He said, "India will be in top three economies of world in near future, citing country's record of jumping five spots in less than decade."
In an exclusive interview, PM Modi said, "For long, India was seen as country of 1 billion hungry stomachs, now it is 1 billion aspirational minds, 2 billion skilled hands. The citizens have a great chance to lay foundation for growth that will be remembered for next thousand years."  "'Sabka Saath, Sabka Vikas' can also be guiding principle for welfare of world," he added.
Speaking about the upcoming G20 Summit, PM Modi said our words and vision are seen by world as roadmap for future and not merely ideas. He outrightly rejected the objections raised by Pakistan and China for holding meetings in Kashmir and Arunachal Pradesh and asserted it was natural to hold meetings in every part of the country.
He said India's G20 Presidency also sowed seeds of confidence in countries of so-called third world. "Theme of India's G20 Presidency 'Vasudhaiva Kutumbakam' not just slogan but comprehensive philosophy derived from our cultural ethos," PM Modi added.
The Prime Minister referred to inflation as a crucial challenge the globe is now facing and said that India's G20 Presidency has highlighted that anti-inflation policies in one nation do not damage others.
"Inflation is a major problem that the entire globe faces, and our G20 presidency helped people realise that anti-inflationary measures taken in one nation do not have an adverse effect on other countries.  Irresponsible financial policies, populism may give short-term political results but extract great social, economic price in long term," he said.
The Prime Minister attacked opposition parties while intensifying his criticism of the "freebie culture" that the BJP refers to, saying that while populism and reckless financial policies may provide immediate electoral gains, they come at a significant long-term social and economic cost. He claimed earlier governments "lacked confidence" in citizens of other states to properly organise high-profile international meetings outside of Delhi in another dig at the Opposition.
Talking about the Russia-Ukraine war, he said, "Dialogue and diplomacy only way to resolve different conflicts in different regions."  Notably, Russian President Vladimir Putin, in a telephonic conversation with PM Modi, informed him that he would not be able to attend the G20 Summit in person.
Prime Minister Modi cautioned on the issue of cyber threats and said that it has to be taken very seriously. He said, "It has introduced an entirely new dimension to battle against illicit financial activities and terrorism. Cyber threats must be taken very seriously; cyber terrorism, online radicalisation, money laundering just tip of iceberg." PM Modi said terrorists using darknet, metaverse, cryptocurrency to fulfil nefarious aims.
On climate change, an issue on which India has called upon developed countries to do more, the Prime Minister said "there are no one-size-fits-all solutions in fighting climate change".  
Last Updated Sep 3, 2023, 2:05 PM IST