PM Modi extends greetings to former Kerala CM V S Achuthanandan on his 100th birthday
Former Chief Minister of Kerala V S Achuthanandan turned 100 on Friday (Oct 20). On this occasion, PM Modi extended his birthday greetings to the veteran CPI(M) leader.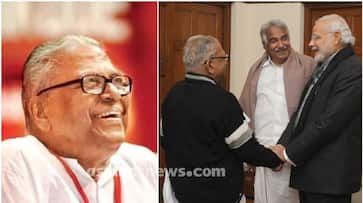 New Delhi: Prime Minister Narendra Modi on Friday extended his greetings to former Chief Minister of Kerala and veteran Communist Party of India (Marxist) leader V S Achuthanandan on his 100th birthday. PM Modi recalled his meeting with the Left leader when they both served as Chief Ministers of Gujarat and Kerala respectively. The Prime Minister also shared a picture on X, (formerly Twitter), where he can be seen shaking hands with Achuthanandan along with late Congress leader Oommen Chandy.
Also read: V S Achuthanandan, the stalwart of Kerala politics turns 100
PM Modi wrote, "Greetings to former Kerala CM Shri VS Achuthanandan Ji on the special occasion of his 100th birthday. He has been working for the people of Kerala for decades. I recall my interactions with him, particularly when we both were serving as Chief Ministers of our respective states. May he lead a long and healthy life."
The Prime Minister also tweeted in Malayalam.
V S Achuthanandan is the only surviving leader of the 32 who left the Communist Party of India (CPI) Central Committee and formed the Communist Party of India(Marxist). The veteran leader is currently staying at his son V A Arunkumar's residence in Barton Hill, Thiruvananthapuram. Arunkumar had informed the other day that despite his health problems, his father knows all the current events by watching TV and reading newspapers. He was elected as Kerala's 11th chief minister and was one of the oldest chief ministers in all of India at the time and was the oldest in Kerala at 82 years and 7 months. 
Last Updated Oct 20, 2023, 7:25 PM IST