Parliamentary panel may summon Apple officials over iPhone hacking claim
A Parliamentary panel is considering summoning Apple officials in response to allegations of iPhone hacking by Opposition members in India, television media reports said. The concerns arose following threat notifications from Apple, warning of potential 'state-sponsored attacks.'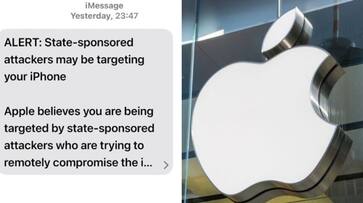 A Parliamentary panel may summon Apple officials over the Opposition's iPhone hacking claim, multiple television reports claimed on Wednesday. This development follows Union Minister Ashwini Vaishnaw's expressed concerns regarding threat notifications sent by Apple Inc. to certain Opposition members, warning of potential 'state-sponsored attacks.' The Union Minister for Communications, Electronics & Information Technology has assured that the government is treating this matter seriously and has initiated an investigation into the issue.
Notably, several prominent politicians, including Shiv Sena (UBT) MP Priyanka Chaturvedi, Trinamool Congress' Mahua Moitra, Aam Aadmi Party's Raghav Chadha, AIMIM chief Asaduddin Owaisi, Congress' Shashi Tharoor, and his party's media and publicity department head Pawan Khera, shared the messages received from Apple.
It is worth mentioning that Apple Inc. clarified that it does not attribute threat notifications to specific state-sponsored attackers and is unable to provide information about the causes of such warnings. The company noted the possibility of false alarms in some threat notifications and the potential for undetected attacks.
Apple stated that state-sponsored attackers are typically well-funded and sophisticated, with evolving attack methods. Detecting such attacks relies on imperfect and incomplete threat intelligence signals, which can result in false alarms or missed attacks. The potential summoning of Apple officials by a Parliamentary panel suggests growing concern over the alleged iPhone hacking incidents and the need for a comprehensive investigation into these claims.
Does the iPhone offer 100 per cent safety?
While no device can claim absolute security, the series of notification alerts issued by Apple suggests that its devices may offer a higher level of security compared to many other smartphones on the market. Apple places a strong emphasis on prioritizing privacy and security, and security alerts serve as evidence of the company's unwavering commitment to this principle. 
In fact, the recent hacking alert could be seen as a compelling testament to the security measures in place for Apple devices. It's a rarity for manufacturers to proactively inform users about potential remote breaches. While it cannot be definitively confirmed, there is a plausible belief that many Android devices may have been susceptible to unauthorized access without the owners' knowledge, as they did not generate any alerts.
Last Updated Nov 1, 2023, 1:30 PM IST