Odisha train crash: Shocking video emerges of moment when Coromandel Express crashed
Odisha Train Accident Video: Moments after the unverified video commences, an unexpected jolt violently shakes the person capturing the footage, resulting in the phone slipping from the individual's grip. The scene plunges into darkness, accompanied by anguished pleas for assistance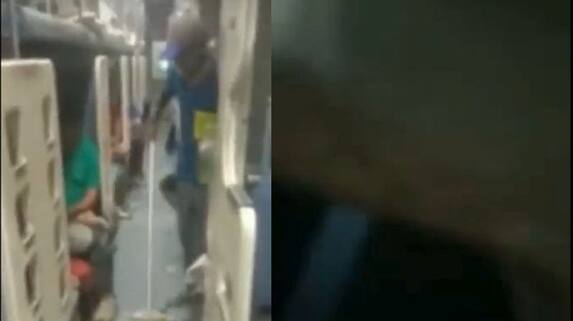 A disturbing video has emerged on social media, capturing the harrowing moments leading up to the tragic train collision in Odisha, which resulted in the loss of 288 lives and left over a thousand injured. However, the authenticity of the video, shared by a local news channel Odisha TV, is yet to be verified.
The footage shows a train staff allegedly cleaning the interior of a compartment, while some passengers are seen relaxing in their berths. The video is believed to have been recorded by a fellow traveller.
Odisha Train Accident: The two possibilities on tracks
Reports suggest that the video was filmed aboard the Coromandel Express, the passenger train that was involved in the collision with a stationary goods train carrying iron ore.
Shortly after the video begins, a sudden jolt disrupts the person recording, causing the phone to slip from the individual's grasp. Darkness ensues, accompanied by the sounds of panic and cries for help.
Before the video abruptly ends, desperate screams can be heard as people fight for their lives.
As per the latest updates, the death toll stands at 288 passengers, with over 1,200 individuals sustaining injuries. Additionally, over 100 bodies remain unidentified and are being held in hospitals and mortuaries. It is suspected that approximately 40 passengers from the Coromandel Express may have died due to electrocution during the triple train collision in Odisha's Balasore district.
The Central Bureau of Investigation (CBI) is currently probing the horrific train accident. The Railways said that the accident was, prima facie, caused due to a signalling problem. However, the Railway Board decided to go seek a CBI probe as it suspected tampering with the electronic interlocking system. The Odisha police have registered a case of negligence in the case.
Indian Army asks Railways to resume army compartment in trains
Last Updated Jun 8, 2023, 8:09 PM IST