New dress code for devotees visiting Mahakaleshwar temple
The world-famous Mahakaleshwar Temple in Ujjain, Madhya Pradesh, is implementing a new dress code for devotees entering the sanctum sanctorum. Also explore the opening of the sanctum sanctorum and the upcoming inauguration of India's largest grain distribution field.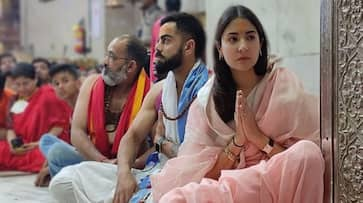 In a significant development at the revered Mahakaleshwar Temple in Ujjain, Madhya Pradesh, a dress code is set to be strictly enforced for devotees entering the sanctum sanctorum. This dress code stipulates that common male devotees must wear traditional dhoti-sola attire, while women will be required to don sarees as a mark of respect within the temple premises. These new regulations coincide with the imminent reopening of the sanctum sanctorum to all devotees, marking a notable change in temple practices.
Furthermore, as a gesture of goodwill, the Mahakaleshwar Temple Management Committee has announced free entry to the sacred Bhasma Aarti ceremony once a week on Tuesdays. 
This special provision is primarily extended to the local residents of Ujjain, offering them the opportunity to partake in this sacred ritual. To ensure a serene experience, the number of attendees for this event will be limited to a range of 300 to 400 devotees.
On days designated as "special" when general access to the sanctum sanctorum is restricted, the dress code will remain mandatory. This means that anyone wishing to enter the inner sanctum must adhere to the prescribed dress code by wearing a dhoti and sola for men and sarees for women. 
Previously, on regular days, devotees were permitted to enter wearing their everyday clothing. With the forthcoming reopening of the sanctum sanctorum, even common devotees will be expected to comply with the dress code.
The much-anticipated reopening of the sanctum sanctorum, which has remained closed for approximately two and a half months, will be discussed in a forthcoming meeting. While the temple sees a daily influx of around two to two-and-a-half lakh devotees, accommodating everyone within the sanctum sanctorum presents logistical challenges.
In another development, the Mahakaleshwar Temple is set to inaugurate the largest grain distribution field in India, known as Anna Kshetra, in the upcoming week. This initiative aims to feed one lakh people throughout the day, further enhancing the temple's role as a centre for spiritual nourishment and community welfare.
Last Updated Sep 15, 2023, 4:37 PM IST