Monson Mavunkal cheating case: Crime Branch to interrogate former DIG Surendran's wife
The Crime Branch has directed the wife of former DIG Surendran, Bindulekha, to appear for interrogation on September 8 in connection with the antiquities fraud case involving fake antique dealer Monson Mavunkal.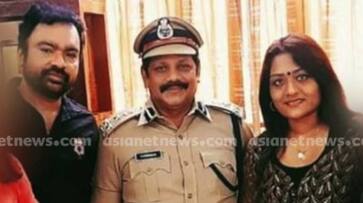 Kochi: The Crime Branch on Sunday (Sep 3) issued a notice to former DIG Surendran's wife Bindulekha in connection with an antiquities fraud case involving fake antique dealer Monson Mavunkal. She has been asked to appear for interrogation at the Crime Branch office in Kalamassery on September 8. When the Crime Branch found that Monson had made a payment to Bindulekha's account as part of the financial arrangement with Surendran, they charged her with involvement in the case. She is now only being charged with conspiracy.
Also read: Monson Mavunkal cheating case: Congress leader K Sudhakaran, former DIG S Surendran get relief from High Court
The latest developments in the case point to the former DIG S Surendran and his family as having kept strong relationships with Monson, and it is claimed that information on large cash exchanges between the parties has come to light. The initial list of suspects in the case included both Surendran and his wife. The accused have reportedly started making efforts to obtain anticipatory bail out of fear of being arrested.
In connection with the fraud investigation, the Crime Branch had detained Surendran in July and released him on bail. He is the fourth accused in the case.
In the upcoming days, the Crime Branch will question sculptor Santhosh who had given Monson the fake antiques.
On September 23, 2021, a complaint was filed against Mavunkal for allegedly defrauding people out of Rs. 10 crores on the pretext of returning the money. Additionally, it was claimed that the accused had misled the complainants by presenting them with false data associated with his account. 
Last Updated Sep 3, 2023, 5:02 PM IST