MCD Election Result 2022: AAP dislodges BJP, wins 134 wards,' BJP's 15-year reign under threat
Following the data shared by the State Election Commission, the overall number of voters in Delhi is 1,45,05,358, with 78,93,418 males, 66,10,879 females and 1,061 transgenders. As per the data, 51.03 per cent of male voters exercised their right to vote, while 49.83 per cent of female voters voted in the civic polls.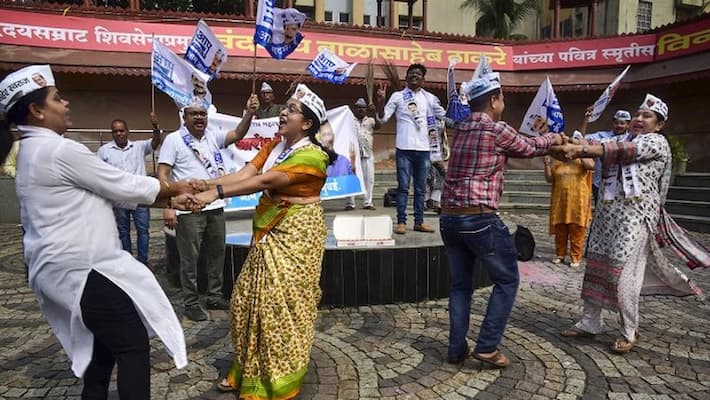 The Aam Aadmi Party (AAP) is all set to end the BJP's 15-year rule at the Delhi municipal corporation with the latest trends and results putting the party's overall tally past the magic figure of 126.
While the exit polls predicted BJP would suffer a massive defeat, the party had put up a spirited fight, winning 83 wards and leading in 19, as its leaders hoped for a reversal of trends.
Also read: MCD Election 2022: Education to health & more; know top priorities of voters
It can be seen that the AAP gained majority by winning 134 while the BJP bagged 104.
The Congress was seen lagging far behind, winning just five seats and leading in as many others. Independent candidate Shakeela Begum has won the Seelampur seat in northeast Delhi.
Also read: MCD Election 2022: When, where to watch Delhi civic body results?
Two other Independents are also leading in their leading seats. AAP Rajya Sabha MP Sanjay Singh said the barely 10-year-old party has "defeated" the largest party of the country (BJP) in their stronghold.
Singh also said the results were remarkable considering the BJP had gone all guns blazing, deploying all top leaders, including 17 central ministers, for election campaign.
Earlier, CM Arvind Kejriwal had said his party would win 230 wards. For the AAP, a clear victory in the MCD elections will be yet another example of its sway over Delhi.
Also read: MCD Election 2022 Exit poll: AAP projected to score massive win
At AAP office in the national capital witnessed celebratory with loudspeakers blaring patriotic songs and the entire premises decked up with colourful balloons. AAP workers, nervous but hopeful, had their eyes glued to LED screens throwing the latest counting trends.
CM Kejriwal is expected to address people after the results. The high-stakes election to the 250 wards of the Municipal Corporation of Delhi (MCD) was held on December 4, sealing the electoral fate of 1,349 candidates in voting machines.
Last Updated Dec 7, 2022, 3:43 PM IST