Maoists open fire after forest officials spot them at Aralam Wildlife Sanctuary in Kannur
The Maoists on Monday opened fire at forest officials at Aralam Wildlife Sanctuary in Kannur. However, the officials were not injured in the firing as they fled the scene. The attack occurred without any provocation.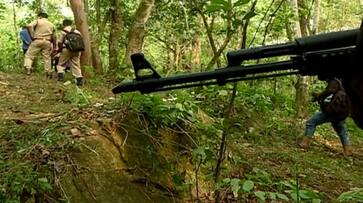 Kannur: The banned outfit CPI (Maoist) on Monday (Oct 30) reportedly opened fire at forest watchers of Aralam Wildlife Sanctuary in Ramachi. The three forest officials were walking through the forest when they countered the armed Maoists. The officials were on their way to the Ambalapara camp office. On seeing the three watchers, the armed Maoists fired several times in the air. With this, the three watchers ran away from the spot. The watchers said that a five-member armed gang was in the forest. The Maoists fired six rounds in the air, according to the forest officials. 
Kerala Police Thunderbolts have arrived at the location and begun a search operation in the meantime. According to representatives of the forest department, Maoists fired without provocation. The initial conclusion is that the same Maoist group that attacked Wayanad Kambamala reached Ramachi. Ramachi is an area with a regular Maoist presence.
Earlier this month, the Maoists arrived at Thalapuzha, Kambamala. After two days, the same gang that had damaged the forest department's office came again. After visiting the residences, they left. Recently, the gang damaged the police-installed security cameras. Residents of Kambamala are concerned about violence and Maoist infiltration.
On August 11, a group of 13 Maoists visited the Keezhpally Vietnam colony in Aralam panchayat. The gang marched in broad daylight while yelling slogans, handing out posters to villagers. According to the police, they were unable to locate them as they did not obtain the necessary information promptly.
By the UAPA and the Arms Act, the Aralam police have filed a case against them for arranging protests with weapons and promoting Maoist ideology.
Last Updated Oct 30, 2023, 5:15 PM IST