Maldives and India to discuss workable solutions: Sources on Male seeking exit of Indian military personnel
Even though Maldives has officially requested the removal of India's military personnel from the archipelago, President Mohamed Muizzu did acknowledge the contributions of Indian forces, particularly in medical evacuation and bolstering confidence among international tourists.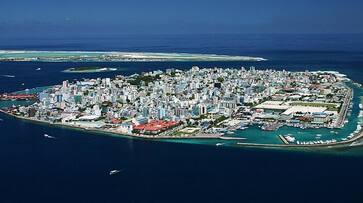 Maldives has officially asked India to remove its military presence in the archipelago. The decision was conveyed to Union Minister Kiren Rijiju who called on new Maldives President Mohamed Muizzu. However, according to sources, the two governments agreed to discuss workable solutions for continued cooperation as this serves the interests of the people of Maldives.
To recall, moments after the meeting, President Muizzu's office issued a statement stating, "The Government of Maldives has formally requested the Government of India to withdraw its military personnel from the Maldives." the statement noted.
According to government sources, when Union Minister Rijiju called on President Muizzu, the latter brought up the issue of Indian military personnel present in Maldives for operating aircraft for medical evacuation and counter-drug trafficking purposes. President Muizzu acknowledged the contribution of these Indian helicopters and aircraft for the medical evacuation of Maldivian citizens, sources said, adding that they are also central to the confidence that international tourists have on staying on the remote islands. 
While President Muizzu appreciated the role of Indian forces in monitoring and combating drug trafficking, it was agreed that the two governments would discuss workable solutions for continued cooperation through the use of these platforms as this serves the interests of the people of Maldives, sources further said.
One of the central concerns in the closely contested presidential elections held in September was the withdrawal of India's military presence in the Maldives. The victorious candidate, Muizzu, who successfully challenged the incumbent president Ibrahim Mohamed Solih, had campaigned on a promise to remove Indian troops and maintain geopolitical neutrality if elected.
In 2021, the Maldivian defence forces reported that approximately 75 Indian military personnel were stationed in the country to operate an aircraft provided as aid in 2020. Muizzu led the opposition coalition with an "India Out" campaign, seeking to pressure the Solih government on this matter. Speculations arose that the new president might pivot Maldives towards the pro-China camp upon taking office.
Contrary to these speculations, Muizzu has affirmed his intent to maintain friendly relations with both New Delhi and Beijing. He has explicitly ruled out the possibility of allowing Chinese troops to be stationed in the Indian Ocean archipelago, emphasizing that Maldives is too small to be embroiled in geopolitical rivalries. As quoted by the news agency AFP on November 15, Muizzu stated, "I am not very much interested in engaging Maldivian foreign policy in this."
Last Updated Nov 18, 2023, 8:30 PM IST