Mahua Moitra responds: 'Darshan Hiranandani's letter a joke, drafted by some half-wit in the PMO'
Mahua Moitra questioned the legitimacy of the businessman's affidavit submitted to the Parliament Ethics Committee. While alleging that the document lacks official authenticity, the Trinamool Congress MP suggested that it was drafted by individuals within the Prime Minister's Office.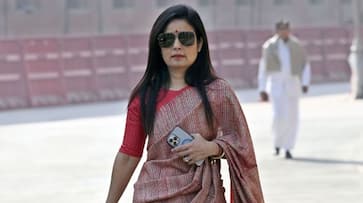 Trinamool Congress (TMC) Member of Parliament, Mahua Moitra, has expressed her doubts over the credibility of an affidavit submitted by businessman Darshan Hiranandani to the Parliament Ethics Committee, describing it as nothing short of a 'joke.' The drama played out on the social media platform X (formerly known as Twitter), where Mahua Moitra issued a press release dissecting the businessman's affidavit, raising troubling concerns and alleging that he had been compelled to sign a 'white paper.'
In her statement, Moitra pointedly emphasized that the affidavit lacked the formal markings of official documents, including the absence of an official letterhead or notarization. She unequivocally labelled the content of the letter as 'a joke' and cast suspicion on its provenance, noting that it had no official origin beyond a leak to the press.
Moitra's scepticism found voice in her query, "The affidavit is on white paper, and not an official letterhead or notarized. Why would one of India's most respected and educated businessmen sign a letter like this on white paper unless a gun was put to his head to do it?" Her statement was laced with thinly veiled sarcasm, suggesting that the affidavit may have been drafted by "some half-wit in the PMO who doubles up as a creative writer in the BJP's IT cell". She attributed it to exaggerated praise of Modi and Gautam Adani and linked any and all opposition figures to her and her alleged corruption.
Further, she launched a biting attack on the Bharatiya Janata Party (BJP), asserting that the affidavit's content in Paragraph 12, where Darshan claimed to have yielded to her demands out of fear, was patently absurd. According to her, given Hiranandani's status as a wealthy businessman with close access to ministers and the Prime Minister's Office, it defied logic to suggest that he would be coerced by a newly-minted opposition MP into granting her gifts and submitting to her requests. This, in Moitra's view, cemented the idea that the affidavit was more likely drafted by the PMO than by Hiranandani himself.
This ongoing saga took a particularly intriguing turn when Hiranandani himself admitted to using Mahua Moitra's parliamentary login credentials to raise questions about industrialist Gautam Adani. Furthermore, he claimed that Moitra had repeatedly made demands, ranging from expensive luxury items to financial support for the renovation of her officially allocated residence in Delhi, travel expenses, holidays, and logistical assistance for her domestic and international travels.
Last Updated Oct 20, 2023, 9:12 AM IST