Madhya Pradesh CM Shivraj Singh Chauhan unveils 108-ft tall statue of Adi Shankaracharya
Adi Shankaracharya is best known for his Advaita Vedanta philosophy, which emphasizes the ultimate unity (advaita) of the individual soul (Atman) with the universal consciousness (Brahman). The 108-foot-tall statue of Shankaracharya was unveiled in Omkareshwar by Madhya Pradesh Chief Minister on Thursday (Sep 21).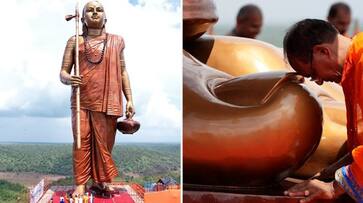 Bhopal: Chief Minister Shivraj Singh Chauhan unveiled the grand 108-feet-tall statue of Adi Shankaracharya in Omkareshwar on Thursday (Sep 21). Shankaracharya, also known as Adi Shankaracharya, was a renowned Indian philosopher and theologian who lived in the early 8th century CE. He is one of the most influential figures in the history of Hindu philosophy and is credited with reviving and consolidating the Advaita Vedanta school of thought.
On the occasion of the unveiling of the magnificent statue at Omkareshwar, CM Shivraj Chauhan offered prayers at the location.
The statue, which is on the Mandhata mountain in Omkareshwar, stands erect on the picturesque banks of the Narmada River. People will have to travel about 80 kilometres from the busy city of Indore to see the magnificent statue.
The 'Statue of Oneness' stands on a 54-foot-high pedestal and has a height of 108 feet. One of the 12 Jyotirlingas, the revered shrines devoted to Lord Shiva, is located at Omkareshwar.
The initiative to build an Adi Shankaracharya statue and museum in Omkareshwar costing Rs. 2,141.85 crores had already received sanction from the Madhya Pradesh BJP administration.
Adi Shankaracharya, who was born in Kerala, is thought to have travelled to Omkareshwar after becoming a 'sanyasi' (monk) at a young age. There, he is said to have met his spiritual teacher Govind Bhagwadpad, spent four years there, and received an education.
The Ekatmadham tree's foundation stone was also laid by CM Shivraj at the statue's unveiling. Omkareshwar has a strong culture of knowledge, and CM Shivaraj stated during its inaugural ceremony that the next generation should continue this tradition. Additionally, he voiced his belief that Ekatmadham philosophy—an Advaita concept—will one day save the planet.
Last Updated Sep 21, 2023, 4:27 PM IST