LDF and UDF are two sides of same coin: JP Nadda in Kerala
Bharatiya Janata Party National President JP Nadda arrived in Thiruvananthapuram to lead the protest of NDA at the Secretariat against the LDF government on Monday (Oct 30). He slammed the LDF and UDF for their soft approach towards fundamental forces in Kerala.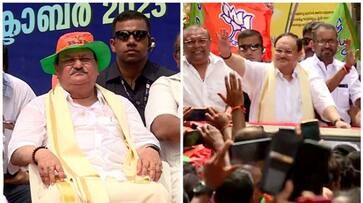 Thiruvananthapuram: The BJP-led NDA laid siege to three of the four gates of the Secretariat in the capital on Monday (Oct 30) in protest against the alleged misgovernance of the Left government. Hundreds of BJP workers gathered outside of the Secretariat from 6 am. BJP National President J P Nadda also arrived to attend the protest at a time when an all-party meeting was called by Kerala Chief Minister Pinarayi Vijayan at the Secretariat. Nadda slammed the Pinarayi government for their soft approach towards fundamental forces in the state.
Also read: 'Pinarayi hiding his inefficiency...' Rajeev Chandrasekhar responds to Kerala CM's outburst
The senior BJP leader alleged rampant corruption in the Pinarayi Vijayan government and that LDF and UDF were two sides of the same coin. 
Addressing the people, Nadda said, " This government is working to increase the consumption of liquor. Their purpose is to safeguard the distribution of illicit alcohol. The plans of the central government are likewise being sabotaged by this regime. Under the Jal Jeevan Mission, PM Modi approved the provision of 70 lakh tap connections; however, the Pinarayi Vijayan government has only been able to offer 12 lakh tap connections. Although PM Modi has approved the construction of six lanes on NH-66, the current administration is attempting to create barriers by withholding land."
"Ayushman Bharat was introduced by us. We provided coverage for 2 lakh persons with 5 lakh rupees. But corruption exists in Kerala. When it comes to the state of law and order, there are rapes occurring and there is insensitivity towards women. The domains of education, hiring practises, health, and transportation have all seen instances of corruption. This regime is rife with corruption at every level. LDF and UDF are two sides of the same coin. Both are dishonest. They are here to serve themselves, not the people," Nadda said.
"Kerala will be part of the mainstream and will move forward when the BJP, the nationalist force, comes to power," he continued.
He also brought up Khaled Mashal, the leader of Hamas, who virtually attended a pro-Palestine rally in Malappuram, Kerala.
"A Hamas leader recently virtually joined a programme in Kerala. The current government said nothing about it. You are discrediting Kerala, the land of the gods. Pinaraya Vijayan, you have to leave," Nadda said.
 
Last Updated Oct 30, 2023, 3:19 PM IST