Labpur residents in Birbhum fast and pray for Pranab Mukherjee's recovery
People in the native village of former President Pranab Mukherjee are worried after watching news of his health condition on television and mobile phones. They have started fasting and prayers. Along with these, a three-day special prayer was organised for his speedy recovery.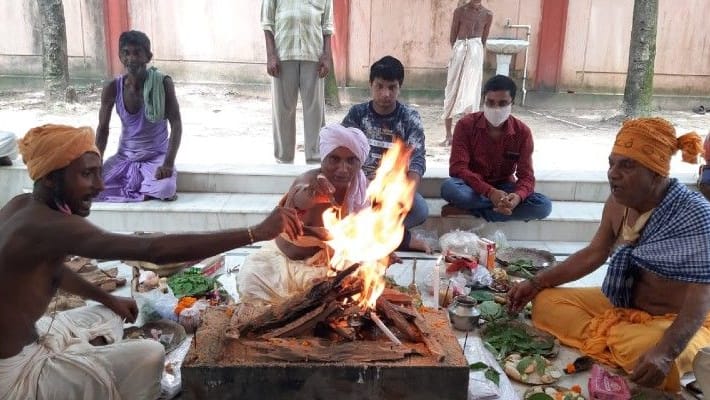 Residents of Parota village in Labpur have been watching news updates on TV screens or mobile phones since morning. Former President Pranab Mukherjee is very close to their hearts. Many people in the village are fasting and praying for his speedy recovery. Home yajna has also been started at various places adjacent to the village house of Pranab Mukherjee in Miriti since Tuesday morning.
Sadeshwari Konai, a 67-year-old maid, has been staying at her Miriti house for more than five decades. Prayers are going on day and night for his 'Mama Babu' (Pranab Babu is called by this name). He said, '' It has been 55 years in this house. When Mama Babu comes home during Durga puja, he first asks about me. And now I don't even know how he is doing. Get well soon, that's what I want from my heart. " 
Gautam Sarkar and his wife Ranjudevi were the caretakers of Pranab Babu's house for 23 consecutive years. They have been fasting since this morning to offer Kali puja in the village temple for Pranab Babu's recovery. Gautam Babu said, "He is our guardian. When somebody in our home falls sick, we feel tensed and panicked, the same is happening for Pranab Mukherjee." Ranjudevi also said, "I have seen this big-hearted man very closely. Many times I have served him hot black tea and milk. We will be in peace when he recovers. "
From being the Union minister to the President, in this busy and long political life, he has come every year in the evening on the first day of Durga puja to his own village house where Durga Puja is celebrated. He has done Chandipath himself. On the evening of the first day of Durga puja, thousands of people gathered outside the bamboo fence to see him when he got off the helicopter at the field near Kirnahar bus stand. After greeting everyone, he would go straight to Didi Annapurna Bandyopadhyay's house in Parota village.
After becoming the President, he was given a guard of honor by the administration in front of the house.
Pranab Mukherjee's sister passed away a few months ago.
Trupti Bandyopadhyay, a nurse from Nagdihipara in Kirnahar and Sudeshna Roy Goswami from Labpur are also upset about hearing the news about the health condition of Pranab Mukherjee. In 2015, Tripti Devi received the 'Florence Nightingale Award for Lifetime Achievement' from Pranab Babu in Delhi. His father, the late Niharranjan Bandyopadhyay, was a classmate of Pranab Mukherjee. In that respect, he had the opportunity to see Pranab Mukherjee very closely since his childhood. In 1992, Sudeshna Devi received the fourth-class merit award from Pranab Babu. Both of them said, "We feel lucky to have the opportunity to touch the feet of people like him. We are not feeling good after hearing the news of his illness. We are praying for his recovery."
A three-day Mahamrityunjaya Yajna has started at the local Jubutia Japeshwar Shiva Temple. Rabindranath Chatterjee, known as his close friend, Priya Ranjan Ghosh, said, "This puja was performed for the well-being of Pranab Babu from the time of submission of nomination papers to the time of Union Minister, President and even when he received the Bharat Ratna."
 
Last Updated Aug 12, 2020, 1:44 PM IST