Pakistan claims that Jadhav was 'arrested' on March 3 last year in the restive Balochistan province.
India on the other hand claims that Jadhav was abducted by Pakistan from Iran.

The accompanying statement of the Pakistani military's publicity wing Inter-Services Public Relations (ISPR) said Jadhav had been found guilty of waging war against Pakistan and stoking violence in Balochistan.
"The spy was tried through Field General Court Martial (FGCM) under the Pakistan Army Act (PAA) and awarded the death sentence. Today Chief of Army Staff Gen Qamar Javed Bajwa confirmed his death sentence awarded by FGCM," the ISPR statement said. 

And that "He confessed before a magistrate and the court that he was tasked by RAW to plan, coordinate and organise espionage / sabotage activities aiming to destabilise and wage war against Pakistan by impeding the efforts of Law Enforcement Agencies for restoring peace in Balochistan and Karachi."

While India has admitted that Jadhav is a former Indian Navy officer, however, that he has links with the government or charges of spying have been denied. 

KULBHUSHAN JADHAV'S ARREST
Jadhav was arrested on 3rd March 2016 in Balochistan while he was entering through Iran on charges of working with the Research and Analysis Wing (R&AW) agent, for fuelling the Baloch separatist movement, and attempting to sabotage the $46-billion China-Pakistan Economic Corridor.
In a "confessional video" released by Pakistan, Jadhav is purportedly heard as saying that he was serving the Indian Navy, that he arrived in Iran in 2003 and started a small business in Chahbahar. India has maintained that Pakistan has been unable to give any clear evidence against Jadhav.
The Ministry of External Affairs had earlier in 2016 said that the video was doctored and fake and appeared that several parts were spliced together. In one section, Jadhav says he retired in 2002 after the 2001 Parliament attack, later he is seen saying he was due to retire in 2022. While he refers to 'criminal activity' in the country, he doesn't elaborate on it.
According to Pakistan media reports Jadhav had an Iranian residency permit and that he purportedly had a passport in the name of Hussain Mubarak Patel with Sangli, Maharashtra given as the place of birth. 
While Pakistan claims that Jadhav, (also spelled as Kulbhushan Yadav), was arrested near the Pakistan-Afghanistan border of Chaman in Balochistan over illegal entry into Pakistan. India on the other hand claims that Jadhav was abducted by Pakistan from Iran.
WHO IS KULBHUSHAN JADHAV?
Forty-six-year-old KulbhushanJadhav is a former Indian Navy Officer. He joined the Indian National Defence Academy in 1987 and the Indian Navy in 1991.
A resident of Hiranandani Gardens in Mumbai, Jadhav comes from a family of police officers. His father Sudhir Jadhav retired as an Assistant Commissioner of Police in Mumbai in 2008-9 and his uncle Subhash Jadhav was in charge of Bandra police station in 2002. 
Jadhav, who took permanent retirement from the Indian Navy, started his business and travelled across the world. His family has alleged that he carried necessary documents whenever he travelled and that they suspect he was "framed as part of a larger political conspiracy" according to an Indian Express report from March 2016.
PAKISTAN'S CLAIMS AND INDIA'S DENIAL: 
 
Pakistan has repeatedly accused India of promoting unrest in Balochistan, however, it has failed at offering evidence to back up its claims. India has always dismissed all such allegations. 
Jadhav's arrest and ensuing trial affected bilateral ties between India and Pakistan as Islamabad repeatedly denied New Delhi's request for extradition or consular access. They claimed that Jadhav was proof that India wanted to fan an armed insurrection in Balochistan, its largest province.
Interestingly, in December 2016, Sartaj Aziz, Pakistan's foreign policy adviser told the upper house of Parliament that the "dossier on Indian spy Kulbhushan Jadhav contained mere statements" and the same didn't contain any conclusive evidence. The statement, however, was denied by Pakistan hours after it was made. 
LATEST DEVELOPMENTS/INDIA'S RESPONSE:

Following news of Jadhav's sentencing, India has decided not to release about a dozen Pakistani prisoners, who were to be repatriated on 12th April 2017. This release of prisoners is part of the practice by India and Pakistan to repatriate nationals lodged in jails in both countries after they complete their sentence.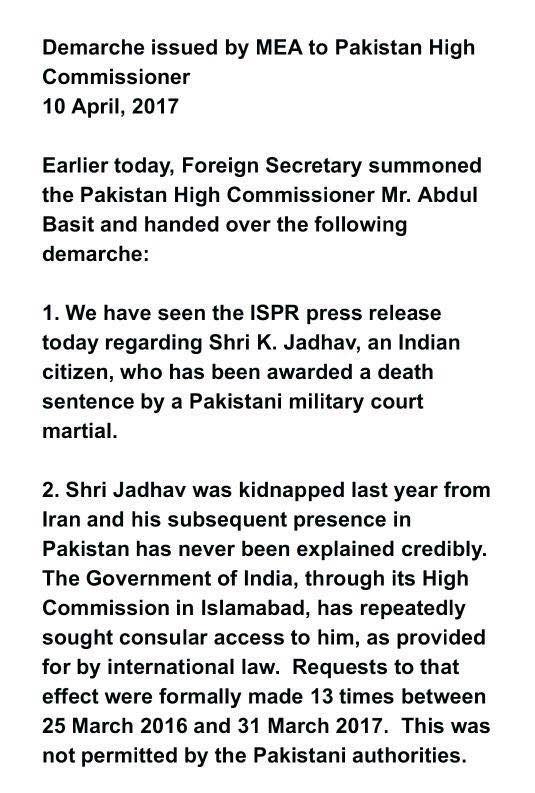 India has conveyed that it will regard as "premeditated murder" if Pakistan carries out the death sentence "without observing basic norms of law and justice".
Foreign Secretary S Jaishankar summoned Pakistan High Commissioner to India Abdul Basit and issued a strongly-worded demarche.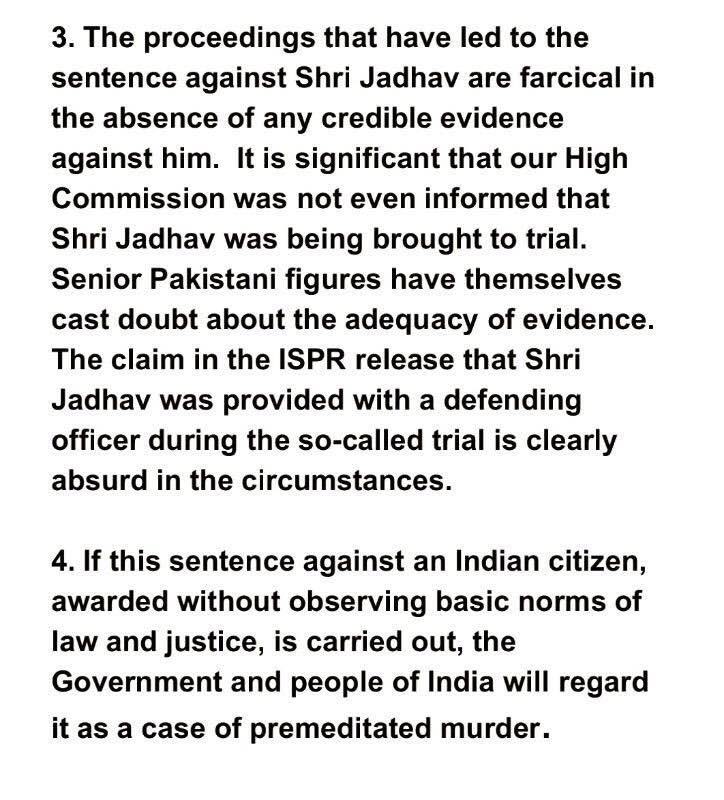 (The author is a media, communications and policy specialist. She writes on constitutional matters, defence, legal issues, gender inequality and travel, and edits books and reports for publishing houses and organisations. Currently, she is Program Director at the Flags of Honour Foundation and works on policy issues on Defence and Veteran Affairs. In her free time, she likes to head off to the mountains, meditate, and grow organic vegetables.)