Kerala: Tree branches inside school compound chopped for blocking advertisement featuring CM
Tree branches of Government UP school in Kannur were chopped down as the flex board with the Kerala Chief Minister's photo was obscured. The headmaster of the school has filed a complaint with the police.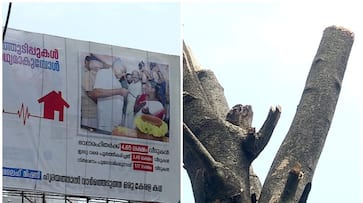 Kannur: The advertisement board with the chief minister's photo was obscured in Kannur, leading to a complaint that tree branches were cut in the school compound. The police were notified by the headmaster of Thavakkara School that unidentified people had entered the property and were chopping tree branches.
A shade tree at Kannur Thavakkara G.U.P. School had all of its branches chopped off yesterday. The three intruders into the compound, according to the headmaster, are responsible for the incident. Due to the holiday, nobody was at school. The advertisement board with Kerala's Chief Minister's picture was allegedly covered, leading to the shade trees being cut down.
On the route leading from Kannur Police Club Junction to the Thavakkara subway, there is a government advertisement board. The other day, some visitors to the school demanded that the tree's branches be chopped down since they were concealing the board. "The tree is already present; the board is not brand-new. They couldn't cut it," the headmaster informed them. The tree's branches were still chopped off. 
The Kannur Town Police has started an investigation into the incident.
Meanwhile, at an event in Kannur, Chief Minister Pinarayi Vijayan on Monday (Oct 9) said that the BJP has no roots in Kerala due to the existence of the LDF. He said the Congress will come to power if LDF is weakened. He alleged that BJP knows that only Congress can fight and win. Earlier on Sunday, he cautioned that if the saffron party comes to power for the third time, the country would be in an "insurmountable danger".
Last Updated Oct 9, 2023, 11:04 AM IST