Kerala: Travancore Devaswom Board issues new circular banning RSS activities in temple premises
The Commissioner of the Travancore Devaswom Board claims that the RSS and other extreme groups are violating the High Court's order by encroaching on the temple land. The official also found that there are weapon training sessions going on inside the temple's grounds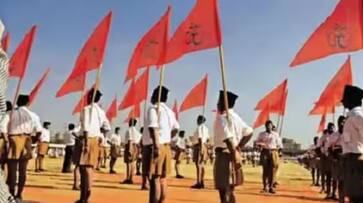 Thiruvananthapuram: The Travancore Devaswom Board (TDB) has banned the activities of Rashtriya Swayamsevak Sangh (RSS) and weapons training in temple premises under its control. There was an earlier High Court order in this regard. However, when the order was not followed, the TDB issued a new circular on Friday (Oct 20). In the circular issued by the Devaswom Commissioner, it is clarified that organisng a protest meeting against the board in the name of Namajapaghosam or in any other name, including temple land advisory committees is also prohibited.
Also read: RSS cannot hold mass drills on temple premises: Travancore Devaswom Board
The Devaswom Commissioner claims that the RSS and other extreme groups are violating the High Court's order by encroaching on the temple land. The official also found that there are weapon training sessions going on inside the temple's grounds. Following that, a new circular with rigorous guidelines was issued.
In the circular, the Devaswom Board has directed the officers to take action without fail if any such activities in the temples. Along with this, all illegal group activities in temples under the TDB have been banned. In case of failure in the matters stipulated in the circular, the officials should issue a notice and take action. The circular also says that vigilance will conduct lightning checks to find RSS branches.
Pictures, fluxes, flagpoles and symbols related to political communal organizations should be removed immediately by those not related to temple affairs. Lightning checks should be carried out, including at night, to check branch operations, weapons training, martial arts practice and mass drills of extremist organizations. The circular also stated that RSS and other such organisations have been barred from trespassing on the temple premises without permission from the TDB. The Devaswom Board has informed through the circular that the services of the police and the district administration should be made available if necessary.
Apart from the temple advisory committees, no committee is allowed to function in the temple. It is illegal to use pictures or symbols of persons in notices and pamphlets of temple festivals and functions. It has been noticed that people including the members of the authorized advisory committee of Devaswams are holding a protest meeting called 'Namajapaghosam' against the Devaswam Board by placing microphones inside the temple and on the temple property. Henceforth, such protest meetings will not be allowed in the temple premises.
Earlier on May 18 this year, a directive was issued in response to complaints that RSS activities were still going on in a few temples throughout the state, despite the fact that there was already a prohibition in place in this respect. The TDB had made it clear that the temple grounds should not be used for anything other than the festivals and ceremonies associated with the temple. According to the board's circular, officers who disobey the directive would face harsh punishment.
Last Updated Oct 21, 2023, 11:40 AM IST