Kerala to honour writer SK Vasanthan with Ezhuthachan Award
S. K. Vasanthan is a Malayalam history researcher, academic and writer from Kerala. He has authored multiple publications in a variety of genres, including essays, novels, short stories, Kerala history, and translations. He was the recipient of numerous prestigious honours, including the Kerala Sahitya Akademi Award for Overall Contributions and the Kerala Sahitya Akademi Award for Scientific Literature.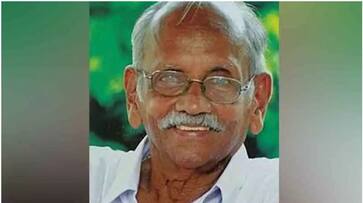 Thiruvananthapuram: The Kerala government has decided to honour noted novelist Dr S K Vasanthan with the 2023 Ezhuthachan Award for being an integral part of Kerala's cultural landscape, leaving an indelible mark as a critic, thinker, and novelist. While terming Vasanthan as one of the esteemed mentors that Malayalam literature has had the privilege of witnessing, the Kerala government said that the award serves as an incentive for lovers of Malayalam literature to revisit the classic ideals of literary criticism, acknowledge its idealism and beauty, and reacquaint themselves with his works time and again.
In a statement, the Pinarayi Vijayan government noted that generations of students have been enriched by his teachings, and his distinctive presence, 'often adorned in a pristine white shirt and tunic', illuminated countless classrooms. For him, the classroom was not merely a space for instruction but a gateway to expand students' horizons in the realm of literature. 
This commitment extended to his literary works, where he continued to open doors to the broader landscapes of culture and knowledge. In this context, it's essential to acknowledge his invaluable contributions to the fields of cultural history and translation, the statement said.
While Vasanthan's critical perspectives may not find favour with everyone, the statement noted that the novelist's unwavering commitment to literary criticism is at the core of his intellectual identity. He fearlessly pointed out new literary trends, particularly in poetry, and didn't shy away from fervent criticism when necessary. 
He held deep respect for the historical beauty of Malayalam poetry and its cultural roots, viewing them as the foundation of his poetic practice. Vasanthan believed that a good poem should reveal hidden treasures at every step, and he was unwavering in his conviction that the sublime represents poetic sensibility. 
This philosophy permeated his reviews, where he assessed contemporary literature in the context of Malayalam's rich and opulent poetic tradition. It is this idealism that continues to shine through his enduring brilliance in the realm of literary criticism.
The government statement noted that Vasanthan's traditionalism is primarily confined to the realm of literature. He has frequently voiced concerns about contemporary society drifting away from its progressive and Renaissance values. He expressed deep sorrow over the persistence of caste, religious divisions, and economic inequalities hindering the realization of Kerala's Renaissance values.
His remarkable contribution to cultural studies, exemplified by the Kerala Cultural History Dictionary, is a testament to this vision. Vasanthan's work significantly expands upon the Kerala History Dictionary that he had authored during his research studies. Through this comprehensive work, he rigorously examined the areas of agreement and disagreement between history and culture as two distinct but interconnected systems of study. The Kerala Culture History Dictionary stands as one of the most esteemed reference books in Malayalam literature. 
Vasanthan has authored over forty works spanning various literary genres, including stories, novels, and reviews, such as 'Nirupaka's Reading', 'Arakillam', and 'Udyogaparvam'.
Vasanthan is not just a literary scholar or critic; he perceives literature as an integral part of a broader intellectual discourse, examining it from multifaceted angles and providing evaluations free from external influences. His commentary possesses a literary quality that often rivals poetry itself.
The assertion that "a poorly written piece is an invasion of my culture" serves as the guiding principle of Vasanthan's criticism. He insists on the rhythmic and rhyming nature of poetry while remaining acutely aware of literature's societal role. He eloquently articulates the spiritual and mental enrichment that art provides and the beauty it bestows upon the society it inhabits. 
Vasanthan represents one of the last remaining links to a mature and evolving generation of Malayalam literary criticism. His comprehensive contributions to Kairali are a source of pride, and the recognition of his achievements enhances the prestige of the Malayalam language, the statement concluded.
Also read: Kerala man sentenced to 20 years in prison for rape and murder of minor girl
Last Updated Nov 1, 2023, 4:12 PM IST