Kerala police books over 1000 NSS members; charges include operating mike set, obstructing pedestrians
Kerala Legislative Assembly Speaker A N Shamseer landed in trouble after he insulted the religious beliefs of Hindus by claiming that Lord Ganesha was only a myth. Massive protests have erupted against his remark and NSS organised a procession in Thiruvananthapuram. The NSS observed August 2 as Faith Protection Day.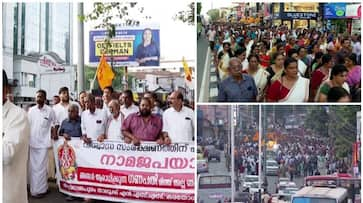 Thiruvananthapuram: The Cantonment police have filed a case against Nair Service Society's (NSS) 'Namajapa' procession that was held on Wednesday as a mark of protest against Speaker AN Shamseer on his controversial remark on Hindu deity Lord Ganesha. Over 1000 people have been booked with NSS Vice President Sangeeth Kumar as the first accused in the FIR. 
Also read: 'Had no intention of hurting religious sentiment…' Kerala Speaker A N Shamseer on controversial remark
According to the FIR, the NSS members and devotees disrupted the traffic, gathered in large numbers illegally and used mikes for chanting mantras. However, the NSS officials claimed that the police department was informed about the march.
The procession was organised from Palayam Ganapathi temple to Pazhavangadi Ganapathi temple at East Fort on Wednesday (Aug 2). NSS demanded an apology from Shamseer to all Hindu devotees, however, the Thalassery MLA and the CPM jointly refused to apologise. 
"The Indian Constitution protects the freedom to practice and propagate any religion. It also highlights how important it is for citizens to encourage a scientific outlook. I just reiterated what the Constitution promotes as someone who holds a constitutional position," Shamseer said while addressing the media. 
The Speaker also said that Kerala will not entertain the communal propaganda initiated by Sangh Parivar. 
Backing Shamseer, CPM said that the Thalassery MLA need not apologise for his remark against the education policy. "Even the Prime Minister has said that Ganesha was made through plastic surgery. It would be good if Congress read 'Glimpses of World History' and 'The Discovery of India' written by Jawaharlal Nehru to gain some ideas," said Govindan.
The Speaker stirred controversy when he said that the Centre was attempting to educate kids about Hindu myths rather than advances in science and technology. "They are attempting to prove that plastic surgery, infertility therapy, and aircraft have been around since the beginning of Hinduism. Wright Brothers were credited with creating the airplane during the time I was in school. They are currently attempting to prove that Pushpak Vimana is the first aircraft," he said.
Last Updated Aug 3, 2023, 12:38 PM IST