Kerala CM's daughter Veena Vijayan paid IGST for payment from CMRL: IT department report
The IT department in its report stated that Kerala CM's daughter Veena Vijayan paid the IGST for the payment received from CMRL. The development came in response to Congress MLA Mathew Kuzhalnadan's allegations.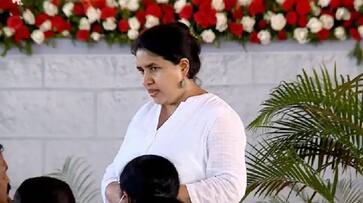 Thiruvananthapuram: The income tax division in a report stated that the Kerala Chief Minister's daughter Veena Vijayan paid the IGST for the transaction that took place between her business, Exalogics Solutions, and the black soil firm Cochin Minerals and Rutile Limited (CMRL). Veena paid taxes on the Rs. 1.72 crores she received from CMRL, based on a report from the GST commissioner. According to sources, the finance minister, K.N. Balagopal, has received this report and will present it to the chief minister.
Also read: Kerala: GST department silent on IGST pay of CM's daughter Veena Vijayan
The tax officials carried out inspections in Kerala and Karnataka as Veena's company has been registered in Bengaluru. The report submitted to the minister makes it clear that the IGST has been paid and that there are records to prove it. It is reported that the tax was paid when the deal with CMRL was done before the controversy erupted.
Congress MLA Mathew Kuzhalnadan filed a complaint in August alleging that Veena Vijayan's firm did not pay IGST of Rs 1.72 crore received from CMRL. The finance minister forwarded the complaint to the tax department on the 21st of the previous month. A document that was previously released revealed that just Rs. 45 lakh of the Rs. 57 lakh Veena Vijayan's Exalogic company CMRL got had been taxed. 
Mathew Kuzhalnadan stated that after reviewing the details, he would reply to this new development. He claimed that after sending a letter to the finance minister requesting information about the IGST payment, he received no response back. This is not the end of the matter, he said.
Last Updated Oct 21, 2023, 5:03 PM IST