Gujarat Election Result 2022: BJP sweeps the state polls; Know who won, who lost
Gujarat election results 2022: The Bharatiya Janata Party has sweeped the Gujarat election 2022. Here's a list of candidates who won and lost the polls.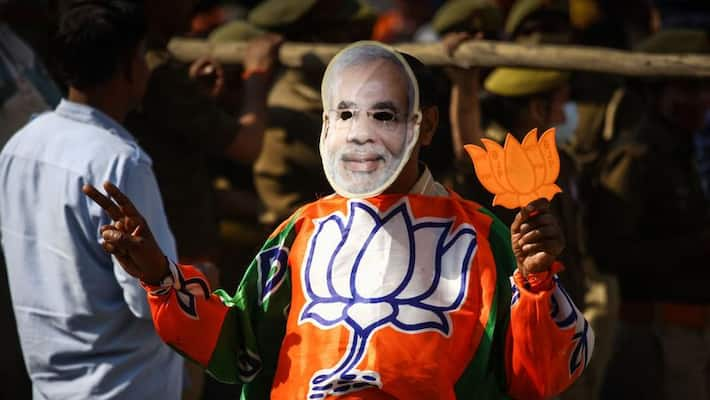 As the counting of votes for the Gujarat Assembly Elections 2022 got underway on Thursday, the ruling Bharatiya Janata Party (BJP) took an impressive lead over the Congress and the Aam Aadmi Party (AAP). The entry of AAP has turned the Gujarat election, which has historically been a two-way race between the BJP and Congress, into a three-cornered contest
The Gujarat Assembly Elections were held in two phases on December 1 and 5. There are 37 counting centers covering 182 Assembly seats.
Abdasa - Jat Mamad Jung (Congress)
Akota - Chaitanya Makarandbhai Desai (BJP)
Amraiwadi - Dr Hasmukh Patel (BJP)
Amreli - Kaushik Kantibhai Vekariya (BJP)
Anand - Yogesh R Patel (Bapji) (BJP)
Anjar - Chhanga Trikam Bijal (BJP)
Anklav - Gulabsinh Ratansinh Padhiyar (BJP)
Ankleshwar - Ishwarsinh Thakorbhai Patel (BJP)
Asarwa - Darshna M Vaghela (BJP)
Balasinor - Mansinh Kohyabhai Chauhan (BJP)
Bansda - Anantkumar Hasmukhbhai Patel (Congress)
Bapunagar - Dineshsinh Rajendrasinh Kushwaha (BJP)
Bardoli - Ishvarbhai alias Anilbhai Ramanbhai Parmar (BJP)
Bayad - Bhikhiben Girvatsinh Parmar (BJP)
Becharaji - Thakor Amrutji Bhopaji Babuji (Congress)
Bharuch - Rameshbhai Narandas Mistrya (Congress)
Bhavnagar East - Sejalben Rajivkumar Pandya (BJP)
Bhavnagar Rural - Parshottambhai O Solanki (BJP)
Bhavnagar West - Jitendrabhai Savajibhai Vaghani aka Jitu Vaghani (BJP)
Bhiloda - Rupsibhai Babubhai Bhagora (AAP)
Bhuj - Keshubhai Shivdas Patel (BJP)
Borsad - Solanki Ramanbhai Bhikhabhai (BJP)
Botad - Umeshbhai Naranbhai Makwana (AAP)
Chanasma - Dilipkumar Virajibhai Thakor (BJP)
Chhota Udaipur - Rajendrasinh Mohansinh Rathva (BJP)
Choryasi - Sandeep Desai (BJP)
Chotila - Shamjibhai Bhimjibhai Chauhan (BJP)
Dabhoi - Shaileshbhai Kanaiyalal Mehta (Shailesh Sotta) (BJP)
Dahegam - Balrajsinh Kalyansinh Chauhan (BJP)
Dahod - Kanaiyalal Bachubhai Kishori (BJP)
Dangs - Vijaybhai Rameshbhai Patel (BJP)
Danilimda - Shailesh Parmar (Congress)
Danta - Parghi Latubhai Chandabhai (BJP)
Dariapur - Kaushikbhai Sukhlal Jain (Kaushik Jain) (BJP)
Dasada - PK Parmar (Congress)
Daskroi - Babubhai Jamnadas Patel (BJP)
Dediapada - Chaitarbhai Damjibhai Vasava (AAP)
Deesa - Sanjaykumar Govabhai Rabari (Congress)
Deodar - Keshaji Shivaji Chauhan (BJP)
Devgadhbaria - Khabad Bachubhai Maganbhai (BJP)
Dhandhuka - Kalubhai Rupabhai Dabhi (BJP)
Dhanera - Mavjibhai Maganbhai Desai (Independent)
Dharampur - Arvind Chhotubhai Patel (BJP)
Dhari - Kakadiya Jaysukhbhai Vallabhbhai (Kakadiya JV) (BJP)
Dholka - Kiritsinh Sardarsang Dabhi (BJP)
Dhoraji - Dr Mahendrabhai Padalia (BJP)
Dhrangadhra - Prakashbhai Parsotambhai Varmora (BJP)
Dwarka - Pabubha Virambha Manek (BJP)
Ellisbridge - Amit Shah (BJP)
Fatepura - Rameshbhai Bhurabhai Katara (BJP)
Gadhada - Mahant Shambhunath Tundiya (BJP)
Gandevi - Nareshbhai Maganbhai Patel (BJP)
Gandhidham - Malti Kishor Maheshwari (BJP)
Gandhinagar North - Ritaben Ketankumar Patel (BJP)
Gandhinagar South - Alpesh Khodaji Thakor (BJP)
Garbada - Mahendrabhai Rameshbhai Bhabhor (BJP)
Gariadhar - Sudhirbhai Vaghani (AAP)
Ghatlodia - Bhupendra Rajnikant Patel (BJP)
Godhra - CK Raulji (BJP)
Gondal - Geetaba Jayrajsinh Jadeja (BJP)
Halol - Jaydrathsinh Parmar (BJP)
Himatnagar - Kamleshkumar Jayantibhai Patel (Congress)
Idar - Ramanlal Ishwarlal Vora (BJP)
Jalalpore - RC Patel (BJP)
Jamalpur-Khadia - Imran Khedawala (Congress)
Jambusar - Devkishordasji Bhaktisvarupdasji Swami (BJP)
Jamjodhpur - Chimanbhai Sapariya (BJP)
Jamnagar North - Karshanbhai Karmur (Ahir Karshanbhai Parbatbhai Karmur) (AAP)
Jamnagar Rural - Raghavjibhai Hansrajbhai Patel (BJP)
Jamnagar South - Akbari Divyeshbhai Ranchhodbhai (BJP)
Jasdan - Kunwarjibhai Mohanbhai Bavaliya (BJP)
Jetpur - Jayeshbhai Vitthalbhai Radadiya (BJP)
Jetpur ST - Jayantibhai Savjibhai Rathva (BJP)
Jhagadia - Riteshkumar Ramanbhai Vasava (BJP)
Jhalod - Maheshbhai Somjibhai Bhuriya (BJP)
Junagadh - Sanjay Sukhabhai Koradia (BJP)
Kadi - Karsanbhai Punjabhai Solanki (BJP)
Kalavad - Meghjibhai Amrabhai Chavda (BJP)
Kalol - Laxmanji Punjaji Thakor (Bakaji) (BJP)
Kalol - Fatesinh Vakhatsinh Chauhan (BJP)
Kamrej - Praful Pansheriya (BJP)
Kankrej - Kirtisinh Prabhatsinh Vaghela (BJP)
Kapadvanj - Zala Rajeshkumar Maganbhai (BJP)
Kaprada - Jitubhai Harjibhai Chaudhari (BJP)
Karanj - Pravinbhai Manjibhai Ghoghari (BJP)
Karjan - Akshaykumar Ishwarbhai Patel (BJP)
Katargam - Vinodbhai Amarshibhai Moradiya (BJP)
Keshod - Devabhai Punjabhai Malam (BJP)
Khambhalia - Isudan Gadhvi (AAP)
Khambhat - Maheshkumar Kanaiyalal Raval (Mayur Raval) (BJP)
Khedbrahma - Dr.Tushar Amarsinh Chaudhary (Congress)
Kheralu - Sardarbhai Shamalbhai Chaudhary (BJP)
Kodinar - Pradyuman Ganubhai Vaja (BJP)
Kutiyana - Kandhal Jadeja (Other)
Lathi - Virjibhai Thummar (Congress)
Limbayat - Pankajbhai Tayade (AAP)
Limbdi - Kiritsinh Jitubha Rana (BJP)
Limkheda - Bhabhor Shaileshbhai Sumanbhai (BJP)
Lunawada - Gulabsinh Somsinh Chauhan (BJP)
Mahesana - Patel Mukeshkumar D (BJP)
Mahudha - Sanjaysinh Vijaysinh Mahida (BJP)
Mahuva - Shivabhai Jerambhai Gohil (BJP)
Mahuva - Mohanbhai Dhanjibhai Dhodia (BJP)
Majura - Harsh Ramesh Sanghvi (BJP)
Manavadar - Arvindbhai Jinabhai Ladani (Congress)
Mandvi - Aniruddha Bhailal Dave (BJP)
Mandvi - Kunvarjibhai Narsinhbhai Halpati (BJP)
Mangrol - Babubhai Kalabhai Vaja (Congress)
Mangrol - Ganpatsinh Vestabhai Vasava (BJP)
Maninagar - Amul Bhatt (BJP)
Manjalpur - Yogeshbhai Narandas Patel (BJP)
Mansa - Jayantibhai Somabhai Patel (JS Patel) (BJP)
Matar - Kalpeshbhai Ashabhai Parmar (BJP)
Mehmedabad - Arjunsinh Udesinh Chauhan (BJP)
Modasa - Bhikhusinhji Chatursinhji Parmar (BJP)
Morbi - Amrutiya Shivlal (BJP)
Morva Hadaf - Nimishaben Manharsinh Suthar (BJP)
Nadiad - Pankajbhai Vinubhai Desai (BJP)
Nandod - Dr Darshna Chandubhai Deshmukh Vasava (BJP)
Naranpura - Jitendrakumar Ramanlal Patel (Jitu Bhagat) (BJP)
Naroda - Payal Manojkumar Kukrani (BJP)
Navsari - Rakesh Gunvantbhai Desai (BJP)
Nikol - Jagdish Vishwakarma (BJP)
Nizar - Dr Jayrambhai Chemabhai Gamit (BJP)
Olpad - Mukeshbhai Zinabhai Patel (BJP)
Padra - Chaitanyasinh Pratapsinh Zala (BJP)
Palanpur - Aniket Girishbhai Thaker (BJP)
Palitana - Bhikhabhai Ravajibhai Baraiya (BJP)
Pardi - Kanubhai Mohanlal Desai (BJP)
Patan - Kiritkumar Chimanlal Patel (Congress)
Petlad - Dr Prakash Budhabhai Parmar (Congress)
Porbandar - Arjunbhai Devabhai Modhwadia (Congress)
Prantij - Gajendrasinh Udesinh Parmar (BJP)
Radhanpur - Lavingji Muljiji Solanki (BJP)
Rajkot East - Uday Kangad (BJP)
Rajkot Rural - Bhanuben Manoharbhai Babariya (BJP)
Rajkot South - Rameshbhai Virjibhai Tilala (BJP)
Rajkot West - Dr Darshita Shah (BJP)
Rajula - Hirabhai Odhavjibhai Solanki (BJP)
Raopura - Balkrushna Khanderao Shukla (BJP)
Rapar - Virendrasinh Bahadursinh Jadeja (BJP)
Sabarmati - Harshadbhai Ranchhodbhai Patel (BJP)
Sanand - Kanubhai Karamshibhai Patel (BJP)
Sankheda - Abhesinh Motibhai Tadvi (BJP)
Santrampur - Babubhai Hirabhai Damor (Independent)
Savarkundla - Pratap Dudhat (Congress)
Savli - Inamdar Ketanbhai Mahendrabhai (BJP)
Sayajigunj - Keyur Narayandas Rokadia (BJP)
Shehra - Ahir(Bharvad) Jethabhai Ghelabhai (BJP)
Sidhpur - Chandanji Talaji Thakor (Congress)
Sojitra - Vipulkumar Vinubhai Patel (BJP)
Somnath - Mansinhbhai Meramanbhai Parmar (BJP)
Surat East - Aslam Firozbhai Cyclewala (Congress)
Surat North - Kantibhai Himmatbhai Balar (BJP)
Surat West - Purnesh Modi (BJP)
Talaja - Gautambhai Gopabhai Chauhan (BJP)
Talala - Bhagabhai Dhanabhai Barad (BJP)
Tankara - Durlabhjibhai Harakhjibhai Dethariya (BJP)
Thakkarbapa Nagar - Kanchanben Vinubhai Radadiya (BJP)
Tharad - Shankarbhai Lagdhirbhai Chaudhary (BJP)
Thasra - Yogendrasinh Parmar (BJP)
Udhna - Mahendrabhai Patil (AAP)
Umbergaon - Ramanlal Nanubhai Patkar (BJP)
Umreth - Govindbhai Raijibhai Parmar (BJP)
Una - Kalubhai Chanabhai Rathod (BJP)
Unjha - Kirit Kumar Patel (BJP)
Vadgam - Manibhai Jethabhai Vaghela (BJP)
Vadodara City - Manisha Vakil (BJP)
Vaghodia - Dharmendrasinh Ranubha Vaghela (Bapu) (Independent)
Vagra - Arunsinh Ajitsinh Rana (BJP)
Valsad - Bharatbhai Kikubhai Patel (BJP)
Varachha Road - Kishor Kanani (BJP)
Vatva - Babusinh Sarabhai Jadav (BJP)
Vav - Swarupji Sardarji Thakor (BJP)
Vejalpur - Amit Thaker (BJP)
Vijapur - Dr Chatursinh Javanji Chavda (Congress)
Viramgam - Hardik Patel (BJP)
Visavadar - Harshadkumar Madhavjibhai Ribadiya (BJP)
Visnagar - Rushikesh Ganeshbhai Patel (BJP)
Vyara - Kokani Mohanbhai Dhedabhai (BJP)
 
Wadhwan - Jagdishbhai Prabhubhai Makwana (BJP)
Wankaner - Jitendra Kantilal Somani (BJP)
Last Updated Dec 8, 2022, 4:06 PM IST