From the India Gate: 'Cooper' Communist, 'Dabangg' divorce and more
There is a lot that happens behind the scenes in the corridors of power. Opinions, conspiracies, power games and internal wrangling galore in the political space. Asianet News Network's massive ground presence taps into the pulse of politics and bureaucracy across the country.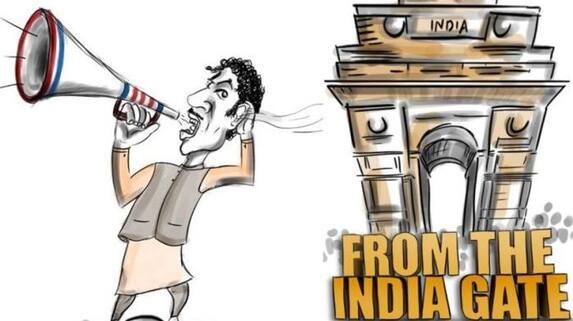 CAPITALIST COMRADE 
One hundred thousand dollars for a place near Kerala Chief Minister Pinarayi Vijayan's chair at a Manhattan event during his upcoming US tour! If this is the prime prize of the gold card sponsorship, there are lesser options being offered with the silver ($ 50,000) and bronze ($25,000) sponsorships.
Comrades in Kerala are struggling to cobble together a palatable excuse to justify this move to collect huge sponsorships to financially support a public event to be addressed by Vijayan.
While such fund-raising banquets or events are usual in American society, what raises eyebrows is that the cynosure of this gala affair is a communist leader who swears by socialist and proletarian principles every minute. The chief minister will be accompanied by key cabinet colleagues. The wait is now for the list of sponsors to come out.
The biggest irony is the fact that Vijayan is clubbing his US tour with a visit to Cuba also. In Cuba, Vijayan and his team will study the public health sector among other things. Indeed, a rigid dichotomy between capitalism and socialism.
---

YATHA RAJA…
The 'praja' is supposed to follow their Raja diligently. And this Left trade union leader in Kerala has exactly imbibed every lesson. He recently took delivery of a Rs 50-lakh Mini Cooper. The photo of the key handover went viral embarrassing the CPM and its trade union CITU.
The poor man's leader claimed that the luxury car was bought by his wife with a bank loan. But cadres are hounded by trolls and posers on why (and, of course, HOW) a comrade's kin purchased a Rs 50-lakh Mini Cooper. Interestingly, the new car will join a fleet of luxury cars already parked in his garage. It is also said that the leader recently bought an adjoining plot to expand his garage.
Ironically, the party has not formally sought an explanation from him. Maybe the party's search for one comrade who has not 'sinned' to cast the first stone is still on.
---

QUEEN BEE 
Y S Sharmila's efforts to register her presence in Telangana are quite loud and evident; much like the tight slap she gave a cop recently.
Sharmila's recent visit to Karnataka deputy chief minister D K Shivakumar had set the rumour mills churning out possibilities. Political grapevine has it that Sharmila's eyes are on the chair of the Telangana Pradesh Congress Committee president's post.
Many feel that this ambition is behind her spur-of-the-moment decisions like staging a dharna at the SIT office to protest against the leakage of PSC question papers. Though Congress wants to cultivate her as a power centre in Telangana, AICC feels that the time is not yet ripe for it.
Congress wants Sharmila to build her party in Telangana riding on the goodwill left behind by her father and former chief minister of united Andhra Pradesh Y S Rajasekhara Reddy. Whether Sharmila will merge her party with Congress post-2024 Lok Sabha elections remains a political moot point.
---

SAHIB BIBI AUR GHULAM
A love marriage between two civil servants in Rajasthan is on the rocks. It's said that the IPS officer wife has slapped a divorce notice on her husband, an IFS officer.
This has shocked their batch mates who adored them as an ideal bureaucratic couple. Though they were posted in different districts, it is said that they had compatible issues. The lady is a powerful personality -- often referred to as a Dabangg officer -- while the IFS officer is a mild and cooperative person.
Though the husband does not want to separate, the wife has clearly said enough is enough. The matter is now out in public but the real reason why the power couple is deciding to part ways still remains unclear.
Last Updated Jun 4, 2023, 11:03 AM IST