Fact-Check: Is rice being made out of plastic? Check HERE
Explore the truth behind viral 'plastic rice' claims circulating on social media. This analysis scrutinizes one such circulating video, shedding light on the facts surrounding the unfounded plastic rice allegations.
Several instances of "plastic rice" claims have circulated on social media, often accompanied by sensationalized images or videos. Authorities and food safety agencies around the world have consistently debunked these claims, emphasizing that rice is a natural grain, and the idea of plastic rice is largely a myth. One such video is currently circulating on social media. Let's take a closer look at the video's facts in this context.
Claim: 
'Recycle old plastics to make original rice, watch the video!' 
The video was posted on Facebook by a user named Rahul KT on November 7, 2023, with the title in Malayalam. The video explains the various steps involved in making something similar to rice. Apart from rice, the video also includes footage of plastic collection and recycling. The fact that plastic is shown along with the rice casts doubt on the authenticity of the video to be the process of making plastic rice. People have commented that this is a fake video and some have asked whether plastic will leak if boiled.
FACT-CHECK
What is seen in the video is not plastic rice, but the production of fortified rice (enriched rice). Fortified rice is specially processed to add nutrients to the rice. Fortified rice is made by grinding normal rice and adding a mixture containing vitamins to it.  A segment in the circulating video is from Fortifit Nutrition Pvt Ltd. and has been provided along with the information on their website on fact-checking.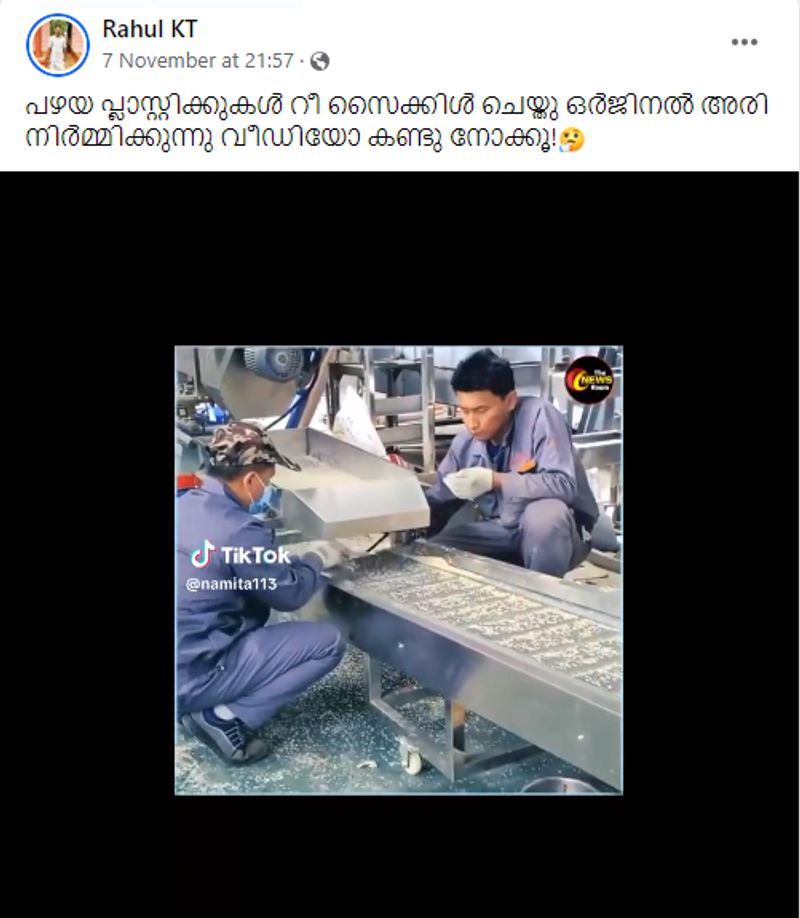 What is fortified rice?
The Food Safety and Standards Authority of India (FSSAI) has published detailed information on what constitutes fortified rice on its website.
Rice fortification is a process of enhancing the nutritional content of rice by adding essential vitamins and minerals. This is done to address and prevent nutritional deficiencies, particularly in regions where rice is a staple food. Common nutrients added during fortification include iron, folic acid, vitamin B12, and other micronutrients. Fortified rice can help improve public health by providing a convenient and widely consumed vehicle for delivering essential nutrients to a large population. This is especially important in areas where certain nutrients may be lacking in the diet.
The quality, major brands and manufacturing methods of such fortified rice are detailed on FSSAI's website.
Conclusion:
The video circulating about the making of plastic rice is misleading. A video of the rice fortification process is circulating on social media with claims of making plastic rice. 
Last Updated Nov 16, 2023, 8:13 PM IST