Explained: Who is supporting Hamas in war against Israel?
Defence expert Girish Linganna delves into Hamas's objectives, including creating an Islamic state covering Israel, the West Bank, and Gaza Strip. Hamas enjoys support from Iran, Syria, and Hezbollah in Lebanon, opposing U.S. policies in the region.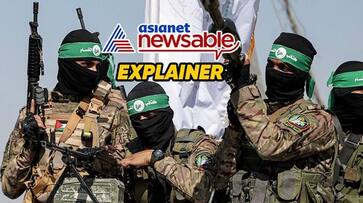 Before the 1967 Six-day War, Israel's borders were different from what they are today. Israel's pre-1967 borders are, sometimes, referred to as the '1967 borders' or the 'Green Line'. These borders did not include such areas as the western part of Jerusalem, the West Bank, the Gaza Strip, the Golan Heights and the Sinai Peninsula. 
Israel gained control of these territories during the 1967 War and, subsequently, withdrew from the Sinai Peninsula as part of a peace agreement with Egypt. The status of the other territories remains a subject of dispute and negotiations in the Israeli-Palestinian conflict.
In 1988, Hamas outlined in its declaration its aim to 'free Palestine' and create an 'Islamic state' in the region that now covers Israel, the West Bank and the Gaza Strip. Hamas is aligned with a group of countries, including Iran and Syria, and the Islamist organization Hezbollah in Lebanon. The group is against the United States' policies in the region. 
In recent times, Hamas has stated that it would agree to a ceasefire if Israel goes back to its borders before the year 1967, provides compensation and permits Palestinian refugees to come back. They have also said they will break ties with the Muslim Brotherhood. 
Israel, however, has dismissed these statements from Hamas, accusing them of attempting to deceive the international community.
Endorsing Hamas
Reports quote Iran's foreign ministry as having stated that Hamas's recent attacks serve as evidence of the 'Palestinian people's determination in confronting the occupiers'. Hamas enjoys support not only within the Palestinian territories but also in various Middle Eastern nations. 
In the region, Iran, Syria and Yemen have expressed their support for Hamas's actions, describing them as 'acts of pride and heroism'. Qatar has gone a step ahead and placed full responsibility for the current situation on Israel. 
The Arab League and Jordan have expressed concerns about 'Israel's actions and their connection to the ongoing conflict'. Meanwhile, Egypt, Morocco and Saudi Arabia have asked people to be cautious and avoid escalating the situation. 
The Arab League is a regional organization of Arab countries in and around the Middle East and North Africa. Its purpose is to promote economic, cultural and political cooperation among its member states and to address common issues and challenges.
Hamas is recognized as a terrorist organization by several countries worldwide, including Israel, the United States, the European Union, Canada, Japan and Egypt. However, in 2018, the UN General Assembly failed to pass a resolution presented by the United States to denounce Hamas's actions.
Hamas versus Fatah
When Hamas entered the Palestinian political arena, it found itself in direct opposition to Fatah, which was founded and led by Yasser Arafat. Originally established as a paramilitary group, Fatah shifted its stance in the 1990s and abandoned armed resistance. Instead, it supported the UN Security Council resolution to establish a Palestinian state based on the borders of 1967, alongside the existence of an Israeli state.
After Arafat's death in 2004, there was a power vacuum, during which Hamas gained in strength. In 2007, following a civil conflict with Fatah, Hamas took control of the Gaza Strip. From that point onwards, Hamas has governed Gaza, while Fatah has maintained authority in the West Bank. 
Hamas characterizes itself as Islamist, emphasizing religious principles, while Fatah promotes secularism, advocating for separation of religion and politics. These two factions also diverge in their stance on Israel. 
While Hamas does not acknowledge Israel's existence and supports armed resistance, Fatah advocates for negotiations as a means to resolve conflicts with Israel. Over the past few decades, Hamas and Fatah have consistently been in competition for influence and control.
Numerous attempts to reach agreements and resolve the conflict have fallen apart. The most recent development in this ongoing conflict was Hamas deciding not to participate in the Palestinian local elections for 2021-'22. Fatah is currently under the leadership of Mahmoud Abbas, who serves as the President of the State of Palestine. 
In a statement released following the recent attacks, the State of Palestine did not specifically mention Hamas. Instead, it emphasized the need to avoid obstructing political progress and failing to allow the Palestinian people to exercise their rightful self-determination and establish their own state.
The author of this article is a Defence, Aerospace & Political Analyst based in Bengaluru.
Last Updated Oct 9, 2023, 12:52 PM IST