Explained: What is Nipah virus? Know its symptoms, treatment and more
Even as the Nipah Virus continues to cause concerns in parts of Kerala, Asianet News Network reached out to Dr Mahesh Dev G, who is a consultant pulmonologist at ESIC Specialty Hospital to understand more about the virus, its symptoms, treatment and more.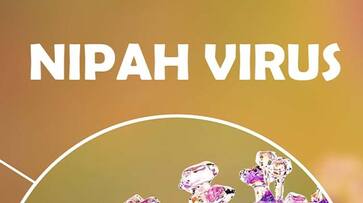 The recent Nipah alert in Kozhikode, Kerala, has once again sent shockwaves through the region, evoking grim memories of previous outbreaks that claimed numerous lives. Nipah, a zoonotic virus, has the potential to leap from animals to humans and subsequently spread among humans. The active cases in Kerala now stand at 4. 
Dr. Mahesh Dev G, consultant pulmonologist at ESIC Specialty Hospital writes about what is Nipah virus disease and what are the symptoms.
How does the Nipah virus spread?
1. Fruit-eating bats are the vectors of the disease. The disease reaches humans by eating fruit eaten by bats.
2. It reaches animals through the secretion of bats. 
3. There is a possibility of disease transmission to humans through animals.
4. Human-to-human transmission occurs through secretions.
5. Airborne transmission has not been fully proven.
What are the symptoms?
Once the pathogen enters the body, the time it takes for symptoms to appear is 5 to 14 days (ie, incubation period - 5 to 14 days). Nipah's symptoms include fever, headache, dizziness, fainting, seizures, behavioural abnormalities, coughing, and shortness of breath. Additionally, vomiting and diarrhoea can occur. Extreme circumstances can lead to encephalitis, brain fever, or ARDS (Acute Respiratory Distress Syndrome).
How to diagnose the disease?
Like the COVID, the disease is diagnosed by RT PCR or real-time polymerase chain reaction. For this, the patient's fluid is tested with throat and nose swabs, and blood, urine and CSF samples to diagnose the disease.
Treatment: 
For Nipah, there isn't presently a reliable medication or vaccination. Treatment involves the use of antiviral medications such as Ribavirin, Favi Piravir, and Remdesivir. The method of treatment includes using monoclonal antibodies. We must know that any disease is treatable at the levels of symptomatic treatment, supportive treatment, and definitive treatment. Nipah may get supportive and symptomatic care. As a result, we should emphasise immunity more.
Preventive measures:
As previously stated, bats are the primary carriers of the Nipah virus. Thus, consuming fruit that has been bitten by a bat or drinking beverages laced with bat droppings can spread the virus. Such circumstances should never occur. Avoid obtaining liquor collected in open pots in areas with lots of bats. When taking care of the sick, exercise extra caution, especially healthcare professionals. Therefore, it is necessary to interact with the patient while wearing a N95 mask, gloves, gown, and face shield. If you have touched someone with a fever, wash your hands thoroughly for 20 seconds.
1. A physical distance of at least 1 meter should be maintained.
2. Extra Care should be taken to avoid contact with bodily fluids while transporting the dead body of nip.
3. Avoid visiting the post-mortem of those who have died of Nipah as much as possible.
4. The high death rate (40-70%) of Nipah often creates fear among people.
However, the evidence so far suggests that Nipah cannot spread as quickly as COVID. Therefore, rather than ineffective worries, what is required is accurate knowledge about the disease and the adoption of accurate prevention techniques.
The article is written by… 
Dr. Mahesh Dev G,
Consultant Pulmonologist,
ESIC Specialty Hospital
Ezhukone Joint Secretary, IMA Kottarakkara.
 
Last Updated Sep 15, 2023, 3:44 PM IST