Explained: What caused the devastating Sikkim flash floods?
A sudden surge in the flow of the Teesta River in Sikkim, triggered by a combination of excess rainfall and a Glacial Lake Outburst Flood (GLOF), resulted in the destruction of bridges, roads, and infrastructure on October 4.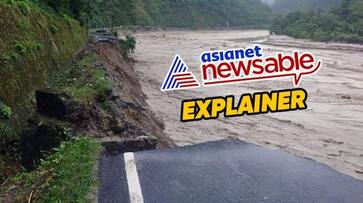 During the early hours of October 4, an unexpected surge in water flow occurred in the Teesta River, resulting in the destruction of numerous bridges, sections of NH-10, the Chungthang Dam, and causing significant damage to several small villages, towns, and infrastructure projects in the upper reaches of the river valley.
The primary districts in Sikkim affected by this calamity are Mangan, Gangtok, Pakyong, and Namchi. Although scientists are investigating the precise cause of the flash flood, initial assessments point to a probable combination of excessive rainfall and a Glacial Lake Outburst Flood (GLOF) event at South Lhonak Lake in North Sikkim, as reported by the National Disaster Management Authority.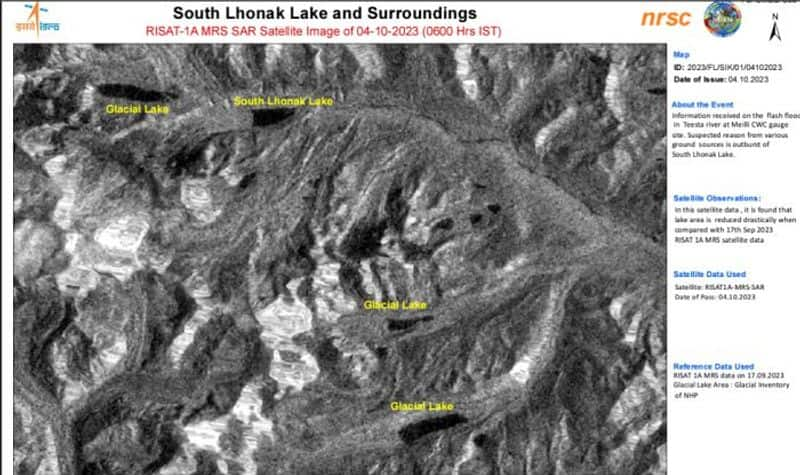 What is a Glacial Lake Outburst Flood?
A Glacial Lake Outburst Flood (GLOF) is a sudden and often catastrophic release of water from a glacial lake, typically formed by the melting of glaciers in mountainous regions. GLOFs occur when the natural barriers, such as ice or moraine dams, that hold back the water from the glacial lake fail or are breached. This can happen due to a variety of factors, including:
* Rapid Glacier Melting: Warming temperatures and climate change can lead to accelerated glacier melting, increasing the volume of water in the glacial lake.
* Avalanches or Landslides: Events like avalanches or landslides can destabilize the moraine dams or ice barriers, allowing water to escape.
* Earthquakes: Seismic activity can trigger GLOFs by disrupting the integrity of the natural barriers.
* Volcanic Eruptions: Volcanic eruptions can melt glacial ice and create GLOFs by releasing a large volume of water.
When a GLOF occurs, it can result in a sudden and massive release of water, mud, and debris downstream, posing significant risks to communities, infrastructure, and the environment.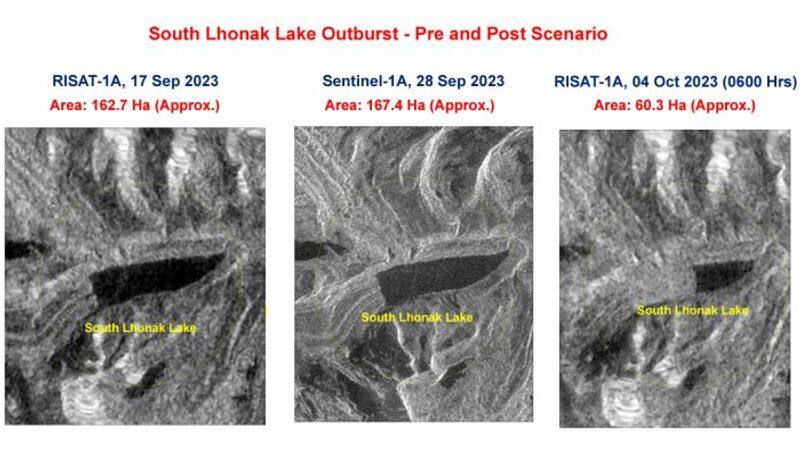 How Things Unfolded At Ground Zero 
South Lhonak Lake is situated at an elevation of 5,200 meters, with a towering ice-capped feature reaching approximately 6,800 meters north of the lake. Satellite imagery received from the National Remote Sensing Centre (NRSC) of the Indian Space Research Organisation (ISRO) at 0600 hrs on Wednesday has indicated the draining of over half the lake.
According to the statement from the National Disaster Management Authority (NDMA), monitoring stations of the Central Water Commission reported that the initial surge of water was 19 meters above the maximum water level at Sangkalang at 0130 hrs and 4 meters above the maximum water level at Melli at 0400 hours.
Upon receiving this alarming news, alerts were promptly issued to downstream settlements, and Relief and Rescue Operations were initiated by various response agencies, including the National Disaster Response Force (NDRF), State Disaster Response Force (SDRF), Indo-Tibetan Border Police (ITBP), Army, and the civil administration of Sikkim. Sadly, several individuals, including 23 Army personnel, are currently missing.
Continuous snowfall in the upper regions and ongoing rainfall and cloud cover in the lower areas are posing challenges to helicopter deployment and relief operations. Nevertheless, relentless efforts are underway to assist the State Government in every possible way, and relief camps have been established at multiple locations in the affected regions.
How To Prevent Another Catastrophe?
The Himalayan Ranges are home to numerous glacial lakes, estimated to be around 7,500, with Sikkim accounting for approximately 10 per cent of them, including nearly 25 considered to be at risk. In a proactive measure to mitigate the impact of potential GLOF events in these lakes, an expedition led by the NDMA in the first week of September 2023 surveyed two of these at-risk lakes with the intention of eventually implementing early warning systems for real-time alerts.
The next phase of the NDMA's plan involves installing early warning systems for real-time alerts at most of the 56 at-risk glacial lakes in India. These efforts to expand the mitigation program are being expedited, while ongoing investigations into the causes of this event are being pursued. Furthermore, given the region's propensity for highly localized heavy rainfall events, endeavours to enhance predictive capabilities for such occurrences will be intensified in collaboration with relevant agencies.
Last Updated Oct 5, 2023, 8:21 AM IST