Experts: Maldives may rethink when reality dawns; for now, it is advantage China
Experts note that while this move may impact bilateral political relations, Indian defence forces are viewed favorably in the Maldives for their cooperative approach in the Indian Ocean region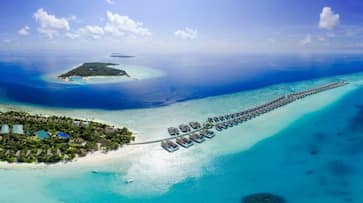 A day after taking oath as the new president of Maldives, Mohamed Muizzu on Saturday formally asked the Indian government to withdraw its defence personnel from the island nation. In a statement issued on Saturday, the Maldivian President's office said: "The Government of Maldives has formally requested the Government of India to withdraw its military personnel from the Maldives. President Dr Mohamed Muizzu formally made the request when he met the Minister of Earth Sciences of India, Kiren Rijiju, at the President's Office earlier today."
Experts are of the view that the archipelago nation does not want to be entangled in geopolitical rivalries between China and India.
In the recently concluded presidential elections, Mohamed Muizzu emerged victorious, defeating pro-India president Ibrahim Mohamed Solih. In his election campaign, he promised to withdraw foreign military personnel from the tiny nation. Muizzu is considered pro-China and also a close associate of former Maldivian President Abdulla Yameen. Yameen had been in power from 2013 to 2018.
Speaking to Asianet Newsable, Maritime Security Scholar Dr Pooja Bhatt said: "President Muizzu's decision is motivated by his keeping his country's national interest first and keeping the country free from entanglements of power rivalries. While this might be a step back in the bilateral political relations, Indian defence forces are seen favourably in Male for their cooperation-based vision and approach towards the Indian Ocean region."
Strategic Affairs Expert Major General Ashok Kumar (Retd) said: "China has been trying to make inroads in all the countries having the potential to serve the Chinese interests in Indian Ocean Region (IOR) as well as the Indo-Pacific region. It has been courting Maldives for furthering this interest, that too at the cost of India's national interests."
"It succeeded in making the new regime announce the withdrawal of Indian defence personnel as it had fought elections on this plank as well," he said, adding, "Maldivian government tried to balance it wherein it announced that being a small country, it doesn't want to get embroiled in any geo-political contest," Ashok Kumar said.
He further said: "Maldivian economy and development is heavily dependent on India. Once this reality dawns on the Maldivian government, it may leave its rhetoric behind. However, at the moment, its overtures are advantage China."
Last Updated Nov 18, 2023, 9:41 PM IST