EXCLUSIVE! S Jaishankar: 'India doesn't say 'we are leader of Global South'; Need to shed 1980s-90s syndrome'
In an exclusive interview with Ambassador TP Sreenivsan on Asianet News Network, External Affairs Minister S Jaishankar delves into the concept of the Global South, highlighting it as a feeling of solidarity rather than a rigid definition. He stresses India's role in providing a voice to the Global South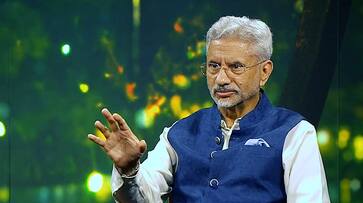 India is not saying that it is the leader of the Global South, but there is a sense among countries that represent the Global South that one among them has the ability to stand to grow and to progress, External Affairs Minister S Jaishankar said in an exclusive interview with Ambassador TP Sreenivsan on Asianet News Network.
Watch the full interview below

"I have had questions on Global South from a large number of countries, including some of the countries you mentioned (Russia and China). They asked, 'What is Global South?', 'Define Global South', etc. and my most truthful answer is that Global South is not a definition, Global South is a feeling -- a feeling of solidarity," Jaishankar said. 
"I do not think there is a need to define Global South because those who are part of it know it and those who are not, also know it. From time to time, people come and say, 'Yes, we are also a part of Global South'. But we will politely handle that. But the reality is, for my working purpose, the 125 countries that we consulted as part of the voice of the Global South, I think, should tell you about it..." he said.
Jaishankar further clarified, "We are not saying that we are leaders of the Global South. We are saying, let us give a voice to the Global South. We are part of that voice."
Jaishankar's views echoed the remarks made by Prime Minister Narendra Modi on the sidelines of the G20 Summit in New Delhi. Prime Minister Modi had emphasized in an interview with a news agency that the Global South nations are increasingly becoming more assertive in influencing the global agenda in the years ahead, particularly in areas like climate change and reforms of global institutions.
He went on to highlight that this transformation is occurring in collaboration with developed countries. Today, these developed nations are showing a greater acknowledgment of the Global South's potential and are recognizing the aspirations of these countries as a positive force on the global stage, the prime minister said.
Throughout its tenure as the G20 president, India placed significant focus on addressing critical issues affecting the Global South, with a special emphasis on challenges related to climate change, cybersecurity, food security, healthcare, and energy.
When prodded whether the voice was against the West, Jaishankar said that the voice was "for the Global South". "It is not the West (that is the problem) today. Let's take India. If you go to the market, my artisans and craftsmen are under pressure. Are they under pressure from the West? Where are goods today, using subsidies and market-distorting factors, being produced and being brought into this country from? They are not coming from the West."
Jaishankar said that one needs to get out of that old 1980s-90s syndrome and recognize the challenges of the world as it is. "Today, the kind of globalisation model, where there is a concentration of manufacturing, which is being leveraged and subsidised -- that is today affecting economies of a lot of countries," he said.  
He further said, "It is our manufacturing, our agriculture exports, our scientific achievements, our vaccines and our ability to vaccinate, our accomplishment of going to the moon... all this has created a sense in the Global South that one of us is today showing that they have the ability to stand, to grow and to progress; that we could also do that one day. And they identify with us in a way they do not identify with others."
Last Updated Sep 18, 2023, 1:38 PM IST