Egg biryani on menu during Lunar Eclipse: Anti superstition activists
Aiming to send out a strong message to astrologers and pundits against beliefs of eclipses being inauspicious, anti-superstition activists will eat and make merry during the celestial event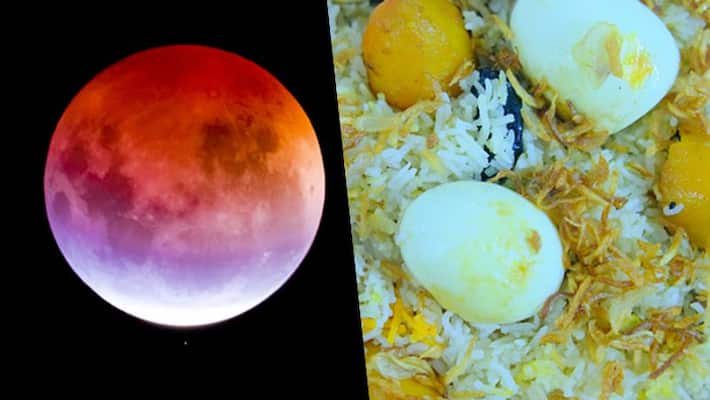 Bengaluru: With the world set to witness 2020's first celestial event lunar eclipse, many astrologers have issued warnings against pregnant women venturing out, food, sexual contact, during the eclipse. Anti-superstition activists will dish out egg biriyani as part of their activism against such beliefs
Speaking to Asianet Newsable, T Narasimha Murthy from Moodanimbike Virodhi Okkuta says, many astrologers have warned about the curse on humans if they eat and venture out during an eclipse, but he has been doing just the opposite for the last 30 years.
"Many astrologers say, bad things or a curse will affect you during an eclipse, be it Solar or Lunar. They say one should not eat, go out, perform rituals, but I, along with others will consume a non-vegetarian meal in the night during eclipse. We have done it in the past, nothing has happened, and I challenge it by saying nothing bad will happen to us," stated Murthy.
Lashing at out at beliefs like not to have cesarean operation if the date set by the doctors coincides with eclipse, lest the child may die or it may impact the pregnant women's health, Murthy said, "Adhering to such beliefs will only lead to more complications, and both child and mother could die if an emergency operation is not performed on time."
The lunar eclipse will begin at 10:37 pm on January in India for a total of 4 hours and 5 minutes. The event will end at 2:42 am IST on January 11. The peak time of the eclipse is at 12:43 am IST on January 11
Apart from India, other Asian countries, European countries, Africa, Pacific, Atlantic, Indian Ocean, and Arctic region will also witness a lunar eclipse.  
Last Updated Jan 10, 2020, 1:56 PM IST